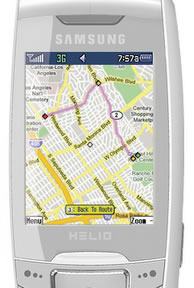 Google Maps for Mobile now officially supports GPS location information when used with mobile phones … well at least one of them at the moment, the Helio Drift.
We've been covering running Google Maps/Local on mobiles for about a year since we heard about Cristian Streng discovering that GPS was supported within its program code, back in November 2005.
Helio would broadly be called a mobile phone operator – but they specifically request, "Don't call us a phone company". Helio is a joint venture between SK Telecom (South Korean telco) and Earthlink (US ISP) that doesn't have their own network, but are a 3G Mobile Virtual Network Operator (MVNO), utilising other networks. Given Koreas long lead in mobile and specifically digital networks, it's a pretty interesting company.
Having your position automatically fed in to a mapping application brings in considerable advantages to any mapping application. When you're in an unfamiliar city, you don't have to struggle to find out where you actually are, then try to punch it into your phone. Then, as you make your way to your destination, your phone position is updated, giving you the assurance that you're not walking in the opposite direction.
Other advantages for Google including the users of the service writing/blogging about the location they are in – generating more content for Google, but importantly information that is anchored to a place/location.
Google official application isn't the only other option. There are other that currently work with GPS. MGMaps support many external GPS devices over bluetooth, and internal GPS on some phones.
It would be interesting to see what the deal between Google and Helio is, as it appears that Helio have an exclusive on this offering … at last for a while.