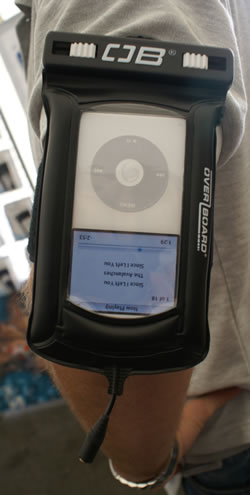 A UK company specialising in waterproof bags, OverBoard, have widened their selection of waterproof cases to include electronic gear.
As many of you may have found out to your disappointment, electronics goods do _not_ mix with either water or sand where they either short out in the case of water, or start making a horrible grinding sound in the case of sand.
OverBoard already had cases for mobile phones, PSP and various music players including iPod that could be used for "leisure activities,' such as light swimming or chilling by the pool or knocking around on a sandy beach.
OverBoard tell us that it's even possible to make a phone call with the case in place.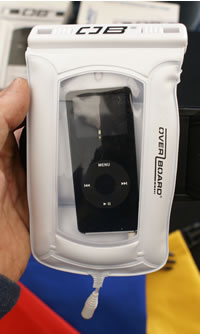 Not content with just providing their leisure range, they've decided to tackle the design problem of a waterproof iPod case for extreme water sports, a range they call pro-Sports. Not only are they more rugged, but float, so your rather expensive music player doesn't start playing its tunes to the fishes.
I got my hands on them at the WhiteAir Extreme Sports Festival
I'd never seen waterproof ipod cases before and was surprised to see a headphone adaptor pointing out of the bottom of it – quite how else I thought you'd listen to them is anyones guess. The connector is gold to minimise corrosion, but OverBoard recommend washing the unit through with freshwater after use.
Taking the music player in and out of the case is simple. Overboard's seal on these cases are sliders, so moving these apart gives direct access to the waterproof pouch. Once the headphone plug has been inserted into the player, sealing the bag is just a case of pushing the sliders together again. Controlling the player is simple through the clear section of the case.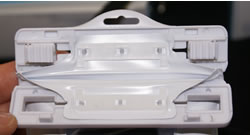 The time I had with it gave me the impression that the case is very tough. There's two leads supplied, a neoprene velcro sports arm strap (for attaching to your arm – in the photo) and a safety break neck lanyard.
Overboard have good a couple of developments underway. The first is a PSP bag which they're adding a headphone socket to and they tell me that they're planning on bringing out some waterproof headphones soon.
The Pro-sport range iPod player (black and white) is available from the OverBoard site for £24.99 (€37, $48).
OverBoard Pro-Sport case
OverBoard
Some more photos of the OverBoard cases