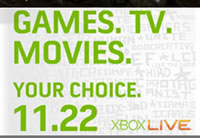 Starting 22 November, US Xbox 360 owners will be able to download TV programmes and films to their Xboxes to rent and watch.
The film content will only be available for a limited amount of time. They'll have to be watched within 14 days of getting it and, once the viewing session starts, will have to be completely watched within 24 hours.
Downloaded TV content will be available to be watched as many times as you like – and you're able to keep it. Just like a video recording …. except you have to pay for it!
The content will be stored on the 360's built-in 20Gb hard drive.
Microsoft are launching the service with a couple of magic numbers – 1,000 hours of programming, with 200 of those being in HD (720p).
The cost? Well, not content to use one of the current 167 currencies around the world, Microsoft have invented their own – MS Points (they're also using it with the Zune). In MS Points, HD films will be 480 MS Points and SD films, 320. TV shows will be 240. Those wanting to partake in the service will need to have an Xbox Live account.

No definite European plans as yet, but it's expected once they sign the content deals.
By the end of the year US Xbox 360 owners will be able to see:
Aqua Teen Hunger Force (Adult Swim)
Avatar: The Last Airbender (Nickelodeon)
Batman Forever (Warner Bros Home Entertainment)
Breaking Bonaduce (VH1)
Carpocalypse (Spike TV)
Chappelle's Show (Comedy Central)
CSI (CBS)
Hogan Knows Best (VH1)
Jackass: The Movie (Paramount Pictures)
The Matrix (Warner Bros Home Entertainment)
M:i:III (Paramount Pictures)
Nacho Libre (Paramount Pictures)
The Nicktoons Network Animation Festival (Nicktoons Network)
Pimp My Ride (MTV)
Race Rewind (provided by Nascar.com)
Raising the Roofs (Spike TV)
The Real World (MTV)
Robot Chicken (Adult Swim)
Skyland (Nicktoons Network)
South Park (Comedy Central)
SpongeBob SquarePants (Nickelodeon)
Star Trek (CBS)
Superman Returns (Warner Bros Home Entertainment)
Survivor (CBS) UFC: All Access (the UFC)
The Ultimate Fighter (selected episodes from the UFC)