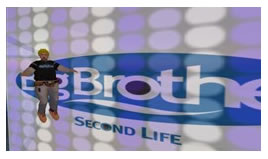 Reality TV programme, Big Brother, is moving to Second Life on 1 December, or "First virtual piglet Brother" as the BabelFish translator put it.
Starting today, Second Life players can apply to take part in it with fifteen participants being selected from three time zones.
The players will live in a glass-walled building, so other Second Life players will be able watch what goes on. The demands on the players is pretty heavy, given they have to spend at least eight hours a day playing the game.
The format of the Virtual BB will be the same as the TV show, with contestants being voted out until there's only one left. The final will be on 31 December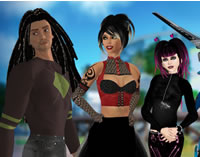 How do you temp a Second Life player to take part when they're likely to not like, or possibly hate TV? Give them something they'd love … a tropical island in Second Life. Reuters report the value of it being worth about US$1,675 (£883).
Endemol Netherlands Managing Director Paul Romer told Reuters, "Big Brother Second Life represents a fantastic opportunity to amass knowledge of the virtual world. In the future, we will use this experience to develop specific content for online communities."
Given Endemol will have to take a certain degree of trust, as they won't actually be able to meet the contestants, we're hoping that some Second Lifers will get together and make some mischief by applying to get in.
As much as we've been tempted, we at Digital-Lifestyles have stayed away from Second Life – frankly we're a little afraid of it. It's the kind of thing we could see getting completely absorbed in – if not utterly obsessed.
The TV version of Big Brother has been dragging on for years now, so all we can assume is that they're desperate to try to get people involved who have faded away from the TV show. One thing for sure is that the production costs of the Second Life version will be considerably cheaper that the over-blown TV show.
Endemol Holland (In Dutch obv)
Second Life