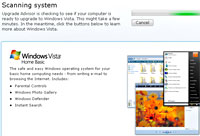 With Windows Vista steaming over the horizon at a rate of knots, users are being encouraged to see if their steam-powered Windows machines will be capable of running the new bells'n'whistle bonanza of the new OS.
We thought we'd check out how our three year old Athlon XP2800+ PC loaded with a once-impressive 1GB of RAM would fare under the new OS, so headed off to the Vista Upgrade Advisor website.
The page told us to plug in any regularly used USB or other attachable peripheral devices (like printers, external hard drives, or scanners) before clicking on the 'download Windows Vista Upgrade Advisor RC' link.
No .Net, no chuffin' install
Our first attempt to run the install program was greeted by a curt insistence that we had to first install Microsoft Net framework before the program would play ball.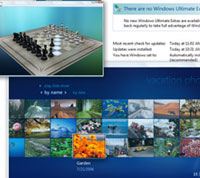 Unchuffedly (or perhaps that would read better as, "in a less than chuffed manner"), we dutifully shuffled back to the Microsoft site and downloaded the user-unfriendly sounding "Microsoft .NET Framework Version 1.1 Redistributable Package" installation – all 22 meg of it – and tried again.
This time the program deigned to install itself and after a little hard drive grinding, presented a 'scanning system' interface, resplendent in a shiny faux Vista look.
The Advisor quickly set about rifling through our PC, with the interface offering a set of five info pages, all telling us how great Vista was (huzzah!) and outlining the differences between the various versions (Vista Ultimate, Home Premium, Business and Home Basic)
The program insisted that it "might take a few minutes" to complete the scan, but time must have stood for a bit because it sure seemed more like 7-8 minutes had drifted by before the hard drive finally stopped grinding .
Computer says yes
However, it was good news at the end with the Advisor telling us that the PC was all ship-shape to run Windows Vista, and even went as far as recommending that we use the Business edition.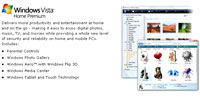 But it wasn't all good news as we caught sight of some yellow warning triangles further down the page.
The first told us that we needed to create a ton more hard drive space as the great bloated beastie that is Vista demanded 15 GB of hard drive space (yes, 15GB!) before it would flop its elephantine ass on our system.
It went on to suggest alternative system drives that we could install the OS onto – if only they had acres of free space too.
Vista also got sniffy about our graphics card, warning us that the "current video card will not support the Windows Aero™ user experience."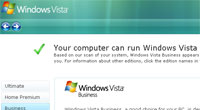 Drivers
The second warning tab banged on about missing drivers, instructing us to scuttle off to the Windows Update website for new drivers for two listed items once we'd upgraded.
There then followed a list of seven items it claimed to know nothing about, and these included our Epson Perfection 1200 scanner (a fairly mainstream component, we would have thought), our UltraMon display drivers and NetDisk XIMETA external network drive.
For these items it seems we were out on our own or, more accurately, at the mercy of the software developers.
Happily, Vista liked the cut of our ViewSonic VP191s monitors – good job too because they're quite new.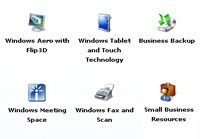 Looking down to the final warning tab entitled 'programs,' we were presented with a refreshingly short list considering that our machine is stuffed to the brim with programs old and new.
Despite the huge popularity of the Norton Systemworks utilities suite, the Advisor reported the likelihood of running into problems when running the program on Vista and it didn't like WinZip 8.0 much either.
It also disliked Adobe Acrobat Reader for Pocket PC 1.0 so much that it simply wouldn't allow it to run under Vista.
Task list
Finally, the Upgrade Advisor wrote out a 'Task List' of things we needed to attend to before, and after, installing Windows Vista.
At the final tally, this amounted to forking out for a new graphics card, freeing up more hard drive space (or, more realistically, buying a new drive), downloading some new drivers and dumping Norton if they're not forthcoming with a fix.
All in all, we expected to find a lot more problems so we're kind of impressed this far, but the real test will come when we get to (finally) install Vista.
With Vista still in beta, we'll be sure to run the Advisor again when we're closer to the OS release date.