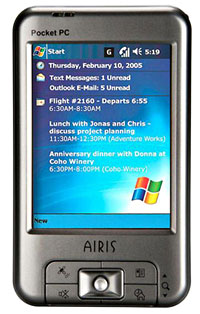 Although PDAs may be a dying breed, they clearly ain't dead yet, with the lesser known Spanish electrics company releasing no less than two spanking new GPS-enabled PDAs.
Running on Windows Mobile 2005, it has to be said that the Airis units aren't exactly lookers, but at a retail price of €220 (£148) and €289 (£195) respectively, they look like chuffing great value.
The new T610 and T620 models both include the well respected SiRFStar III GPS chipset.
Lurking inside is a nippy Samsung 2440 400MHz processor, backed up by a healthy 64MB RAM and 128MB ROM.
The T610 and T620 are cosmetically identical, with both being enclosed in a bland, grey plastic case offering the usual four navigation buttons supplemented by a mini joystick.
Both PDAs come with a 3.5 inch TFT 320 x 240 pixels/65k colours touch screen with anti-reflective coating, with the units offering WAV, WMA, MP3, WMV, MPEG4, DivX4 and DivX5 support.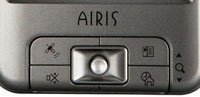 A SD/MMC card slot takes care of expansion options, with connectivity coming in the form of a MiniUSB socket , Bluetooth 2.0 and Wi-Fi 802.11 b/g (T620 only)
A Lithium-Ion 200 mAh battery should keep the thing purring along for hours, with the T610/T620 weighing in at 170g and measuring 15.6 x 72 x 17.8 mm.
A mounting kit, car charger, and a smart leather case round off the feature set, with the units being available from this French site.
We couldn't find any UK distributors.
[From Navigadget]