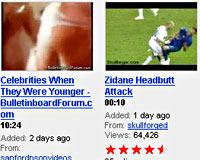 As we\\'d previously as conjecture, Google has announced that it will be buying YouTube. The price is slightly above the rumours at $1.65Bn (€1.31Bn, £0.88Bn). It\\'s an all stock deal, with no money changing hands.
YouTube has been a fast-growing phenomenon that only started in February 2005, a mere 19 months ago.
Formed by some of the people who were in another similarly sale-price company, PayPal, which went for $1.5Bn to eBay, including Roelof Botha the former CFO of PayPal, who fortunately became a partner at VC company, Sequoia Capital partner. The other two were Chad Hurley and Steve Chen. Not much has been heard about them, so it\\'s worthwhile watching the Charlie Rose interview with them.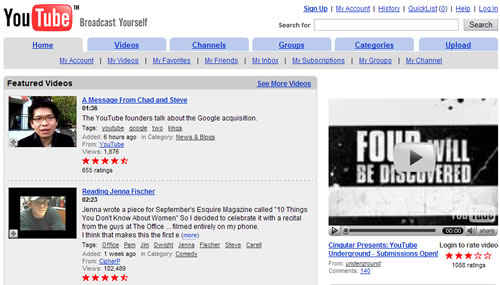 History (short)
In the early days, many people couldn\\'t understand how they would survive long-term given the speed that they were burning through money.
Back in November last year, long before their explosion to playing 100m videos a day, YouTube was shifting 8 terabytes a day. That kind of bandwidth is very expensive.
The founders have a fair few quid in their pockets after the PayPal sale, but in November 2005 they raised $3.5m from Sequoia Capital, which was followed up in April 2006 by further funding of $8m was also supplied by Sequoia.
See how Chad and Steve break the news to their users.

Given the sale price (don\\'t forget $1.65Bn), the return for the investors is tremendous. As the company is closely-held, ie it\\'s shares aren\\'t publicly available, we don\\'t know how much was put in by the funders, but taken at face value, the $13.5m that was put in by Sequoia returned upto 100 times their investment. Not bad for 19 months.
Copyright issues
There\\'s been much controversy within media companies as they\\'ve objected to their content being uploaded to YouTube. Given that video has been uploaded at the rate of 65,000 a day, the only way that YouTube has been able to stay on top of new copyrighted material is by removing it when complaints have objected.
Google Video has been less concerned with similar pieces of video, probably due to their financial muscle and less need to feel threatened by the media companies legal departments. Expect a long list of deals like Warner Music\\'s
Of course, most of the material on YouTube is people making their own videos and uploading it, a few of which have become stars on the service and a couple mega-stars being signed by Hollywood agents.
For the latest (brief) views on the deal of Hurley and Chen have just hit Reuters.