Microsoft has unveiled the official line up of the Windows Vista packages, with no less than six versions being available, all in 32 and 64-bit flavours.
The full roll call comprises of Windows Starter 2007; Windows Vista Enterprise; Windows Vista Home Basic, Windows Vista Home Premium, Windows Vista Ultimate and Windows Vista Business.
There'll also be two additional releases – Windows Vista Home Basic N and Windows Vista Business N – which are sold without Windows Media Player, as ordered by European Union antitrust regulators.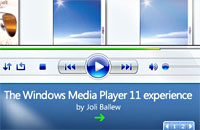 All versions of the new OS will come with Internet Explorer 7.0, Vista desktop search, parental controls and Windows Defender anti-spyware technology.
Windows Vista Starter
Aimed at developing nations, Windows Vista will be customised for users in particular countries and offer reduced functionality and a stripped down feature set, and will only be available preloaded on cut-rate PCs.
Windows Vista Home Basic
As the name suggests, Windows Vista Home Basic is the version for casual PC users who only want to surf the Web, blast out a few emails and create, store and share basic documents. To keep things simple, there'll be no support for the groovy Aero Glass user-interface effects seen in the full Vista version.
Windows Vista Home Premium
Offering the kind of functionality currently seen in the Windows XP Media/Tablet PC Editions, the multimedia-tastic Home Premium version bundles in support for digital photography, "mobility-focused technologies," movie-making and high-def TV.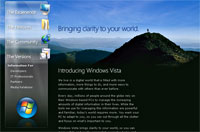 The super-slick redesigned Windows Aero GIO promises to provide a 'transparent glass' design, with subtle effects such as dynamic reflections and smooth animations, along with Windows Flip and Flip 3D desktop navigation features.
Windows Vista Business
Offering the full bells'n'whistles Aero user interface, Vista Business is designed for organisations of all sizes and comes with Tablet PC functionality built-in.
Windows Vista Enterprise
Aimed at corporate business users, Windows Vista Enterprise comes with all the Windows Vista Business features, plus BitLocker drive encryption; Virtual PC Express virtual-machine support and the Subsystem for Unix-based Applications (SUA), designed to allow Unix applications to run on Vista machines. This version will only be available to Enterprise Agreement (EA) and Software Assurance (SA) volume-licensing customers.
Windows Vista Ultimate
Aimed at single home/office users and small business bosses and managers, the high-end Vista Ultimate combines the multimedia whizzbangery of Vista Home premium with the security and functionality of Vista Business.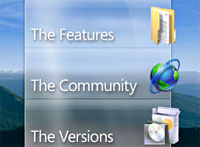 All versions of Windows Vista are scheduled to be broadly available in the second half of 2006, with pricing to be announced.