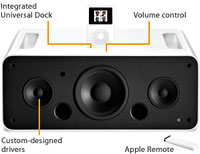 With a multitude of third party manufacturers making a mint from a multiplicity of iPod accessories, Apple has decided to cut itself a slice of the action with their own high-end Apple iPod Hi-Fi speaker system.
The high-fidelity speaker system comes in at a premium price and looks like an attempt by Apple to scare off the competition from upmarket speaker manufacturers like Bose and Denon, both of whom have done very nicely thank you very much from their iPod accessory ranges.
Powered by the mains or six D-cell batteries, the shiny white box has a slot to accommodate iPod players at the top with an Apple Remote letting users control the player from the comfort of their sofa/bed/hovel.
The all-in-one design features an isolated enclosure, with two custom designed wide-range speakers lurking under the speaker grill and a tuned ported bass system claimed to minimise vibration.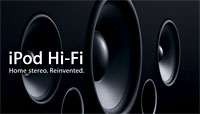 With portability in mind, the iPod Hi-Fi features big handles on either side (but no central grip which is a bit odd).
There's also a removable front grille with precision-mounting clips, touch-sensitive volume control buttons and a dock connector for all iPod flavours.
While docked, the iPod Hi-Fi automatically recharges the player, with the player's display showing Tone Control, Large Album Art mode and volume mirroring.
There's also a handy dual-purpose 3.5-mm auxiliary input that accepts either analogue or digital signals for connection to a wide range of audio sources and third party players.
Initial reports say that it sounds good, but weighs so much (14.5 lbs without batteries) you'll be unlikely to drag it down the beach.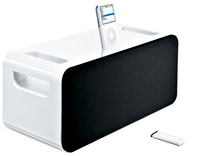 That shiny finish looks a bit scratchable to us too and we can't imagine many death metal loving teenagers wanting a great big white box in their satanic bedrooms either.
Our initial impressions: not good
We've got to say we're unimpressed. It looks too bulky to be a take-anywhere beatbox, too delicate to be taken outside the house and with the speakers so close together, unlikely to produce the kind of hi-fi we'd expect for the top-tier price – US$349 (~e292, ~£198) in the USA market.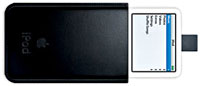 Mind you, Steve Jobs was suitably enthusiastic, declaring it as the, "home stereo reinvented for the iPod age".
Smell the leather
Also announced was an eye wateringly expensive leather iPod case, yours for just $99 (~e83, ~£56).
Personally, if we desperately needed a case with a little Apple logo on it, we'd head down to the local street market and get something that would do the job just as well for about £5. But hey! Maybe that's because we're just a bunch of cheapskates!