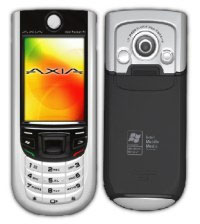 Fifth Media have announced the forthcoming unveiling of their AXIA A308 PDA Phone, proudly proclaimed as the (deep breath), "world's smallest PDA Phone on Microsoft Windows Mobile 5 featuring Wi-Fi connectivity."
Due to be seen at the CeBIT exhibition in Hannover next month, the quad-band AXIA A308 packs in GSM, GPRS and EDGE connectivity – as well as the all-important Wi-Fi connectivity – into its diminutive proportions.
Running on Microsoft Windows Mobile 5.0, the pocket-rocket PDA also offers Bluetooth and IrDA-enabled connectivity, with the whole caboodle measuring just 20.8 x 48.8 x 113.3mm and weighing 128g.
Powered by a surprisingly nippy Intel PXA272 CPU 416 MHz processor, the Axia comes with a reasonable 128 MB of flash memory an 64MB of RAM, with a decent sized 2.2″ Transflective TFT LCD 262K colour running at 240 x 320 resolution.
Multimedia is taken care of with WAV/WMA/MP3 support and a basic, built in 1.3 MegaPixel CMOS fixed focus camera. Memory can be expanded via the miniSD flash memory slot.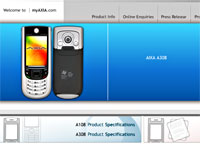 The all-important battery life is claimed at 4 hours talktime with the removable/rechargeable 1500mAh Li-Polymer offering 120 hours of standby time.
On the initial specs, this looks like a very attractive phone – we like the 'proper' keypad and the fact that they've wedged in so much functionality into such a small form.
The built in Wi-Fi is already getting our wallets twitching and with a processor powerful enough to run Skype, we'll be looking out for this one at CeBIT.
SPECIFICATIONS
PROCESSOR Intel PXA272 CPU 416 MHz
MEMORY Flash 128MB; RAM 64MB
DISPLAY 2.2″ Transflective TFT LCD 262K colour with 240 x 320 resolution White LED Touch Screen
AUDIO Microphone Loudspeaker for speaker function 2.5mm stereo headphone jack Support WAV/WMA/MP3 stereo
CAMERA 1.3 MegaPixel CMOS Fixed focus
BATTERY Removable/rechargeable 1500mAh Li-Polymer
Talktime: 4 hours*
Standby Time: 120 hours*
CONNECTIVITY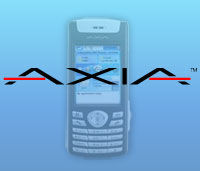 Quad-band GSM (850/900/1800/1900 MHz)
Integrated GSM/GPRS/EDGE
Wireless LAN (IEEE 802.11b compliant)
Bluetooth (1.2 compliant, Class 2 transmit power)
IrDA
OPERATING SYSTEM
Microsoft® Windows® Mobile 5 Pocket PC
OS Microsoft® Pocket Internet Explorer
Windows® Media Player 10
Windows® Messenger
Transcriber software
DIMENSIONS 20.8 (D) X 48.8 (W) X 113.3 (L) mm
WEIGHT 128g
EXPANSION Mini SD slot