We're really pleased to have Lawrence Dudley writing for us.
Digital-Lifestyles thinks that all too often articles about teenagers are written by people old enough to be their parents. What teenagers are thinking isn't represented.
Lawrence will give you a point of view that you won't find in other publications. You see Lawrence _is_ a teenager.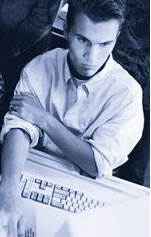 There's a Trust Issue Here
With the Digital world coming ever closer to reality, there is a danger of the two merging. The upshot of this is a danger that people become so involved with the Digital world, that they lose a grasp of reality. In short, they become addicted.
Internet addiction disorder is already a widely recognised addiction and those most likely to become addicted to the Internet are teenagers. This is partly because of the anonymity and therefore reputation-less nature of the Internet, allowing them to be whoever they want to be, and partly because teens just have so much more time on their hands than their grown-up counterparts. This together, results in a vast amount of Internet use.
What can responsible parents do when their teenager refuses to turn off the computer or refuses to go to school because they've been up too late playing online?
There are two approaches: The first is to talk to the child in question about the problem. While this will work with the majority of responsible teenagers, there will always be a minority who won't listen. The other approach is using parental control software which can do a variety of things including limit the amount of time that a user is allowed to spend on the Internet. Trouble with any sort of software solution is, of course, that it can easily hacked or broken. Very often the teenager has a much better knowledge of the computer than the parent has.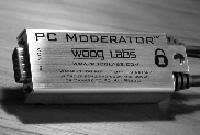 A company called Woog Labs (yes, really) have unveiled a product that is designed to be hack-proof and will apparently work for any operating system.
Trouble with it is that A) It requires an adaptor to be used with any video cable other than VGA (mine's DVI), and B) It only works with PS/2 Keyboards… PS/2?!
This makes their claim that it works with any operating system a bit hard to swallow: I'm sure that theoretically, this device will work on Mac OS X. However, to my knowledge there has NEVER been a Mac shipped with a PS/2 port. Makes it a bit useless really…
I can see that there is probably a market for a device like this, but what's really needed is for someone to educate parents on their responsibilities. Surely it should be up to the parents to teach the kids what's right and what's wrong? If they don't, then what are the kids going to do when they grow older? When they are forced to look after themselves? Digital nannying should only go so far in my opinion.