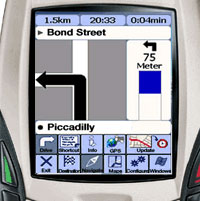 GetMeThere.co.uk has launched what they are claiming is the first, free to install, Pay-as-you-go Mobile Satellite Navigation solution in the UK.
A joint venture between Toyota GB and IS Solutions, the TARA (Traffic Avoidance and Routing Application) Mobile SatNav is aimed at mobile and smart phone users in the UK.
Customers won't have to buy expensive hardware or annual licences to use the Satellite Navigation system as the TARA Mobile SatNav works with any compatible mobile phone and a GPS receiver.
Instead, punters pay on a per-journey tariff, with TARA Mobile SatNav charging £1.50 ($2.70, €2.22) to the mobile phone bill for each destination, with users allowed to update their route to check traffic conditions, take an alternative route or to re-calculate the journey if they have the orienteering skills of an alcoholic amnesiac

The system offers a comprehensive suite of features, including full turn by turn navigation, voice commands, traffic avoidance, auto-zooming maps as a junction approaches, hands free use, European road network coverage with full address, house number, street and postcode search.
All route calculation and traffic avoidance is processed remotely, with the data automatically downloaded onto the mobile via GPRS.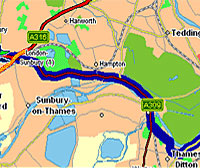 Jon West, Director of GetMeThere.co.uk said "With over 4.5m navigationsystems expected to be sold this year across Europe, TARA Mobile SatNav has arrived just in time to provide a low cost, quality solution for the intelligent motorist. With GPS devices now available at around the £50 ($90, €74) mark, SatNav has become a must have for all motorists".
TARA mobile SatNav is available as a free download from GetMeThere.co.uk and is compatible with a long list of mobiles including popular Nokia models such as 3650, 3660, 6260, 6600, 6670, and 7610,T-Mobile's MDA II and Compact and O2's XDA II range.