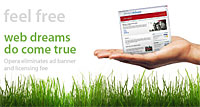 Following their free-for-24-hour offer at the end of August, Opera Software has permanently removed the ad banner and licensing fee from its award-winning Web browser.
In an attempt to shake up the browser market – and regain ground lost to Firefox – the Norwegian software house has made the ad-free, full-featured Opera browser available for download – completely free of charge – at opera.com.
"Today we invite the entire Internet community to use Opera and experience Web browsing as it should be," said Jon S. von Tetzchner, CEO, Opera Software.
"Removing the ad banner and licensing fee will encourage many new users to discover the speed, security and unmatched usability of the Opera browser."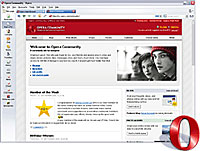 Previously, Opera was only available free if users were prepared to put up with a distracting ad banner stuck on the top of the browser interface, with the option to shell out for a $39 (£21.60, €32) licensing fee to remove the thing and receive premium support.
Not surprisingly, punters fed up with Internet Explorer's well publicised security problems were far keener to try out the free Firefox browser than put up with Opera's adverts. The Mozilla product now enjoys an 8 per cent market share.
Opera, however, can only muster 1 to 2 percent of the world's Internet users, so they are hoping that by adopting Firefox's freebie tactics they can substantially increase their user base.
"Our goal is to become on the desktop the number-two browser," air-punched von Tetzchner.
The company expects to recoup lost sales revenue after striking deals with Google and other online search companies.
The deals will give Opera a cut of advertising revenues when, for example, a search typed into the browser's built in search engine window is directed to Google advertising.
Von Tetzchner is confident that this advertising revenue will generate more than enough income to compensate for giving away Opera – if the company can persuade enough people to switch to their browser, of course.
As dry ice billowed around his feet and dramatic music filled the air, von Tetzchner bellowed out his pledge to the world: "As we grow our userbase, our mission and our promise remain steadfast: we will always offer the best Internet experience to our users – on any device. Today this mission gains new ground."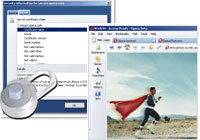 It seems a bit of a gamble to us – both IE and Firefox are also available free of charge and without a huge marketing campaign we can't see how they're going to get enough users to switch from their far better known rival products.
Although we're sticking with Firefox for now, there's no denying that Opera is an excellent product and definitely worth downloading – especially now that it's free!
The Opera browser is available in 20 languages and with the complete download weighing in at a bandwidth-unbothering 4MB, we recommend you give it a go!