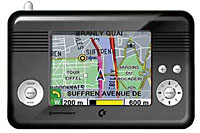 Mention the name "Commodore" to old skool gamers of a certain age, and you might see a tear welling up in their eyes as they recall long, blissful hours playing Frontier Elite, Sensible Soccer and Lemmings on the legendary gaming platform.
After suffering a crushing fall from grace in the mid 1990s, Commodore's new owners (Yeahronimo Media Ventures) have re-launched the brand, and announced a cutting-edge multimedia GPS Videpod.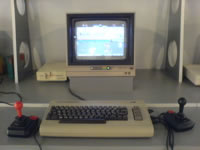 Codenamed 'The Navigator Combo', the Windows CE-based handheld comes with a 30GB hard drive (preloaded with maps), a big 3.6in touch-screen display and an integrated GPS receiver, all packed into a refreshingly chunky case.
As well as providing satellite navigation, the portable media centre can also play back music in MP3 and WMA format and video in MPEG-4 and DivX formats.
Music tracks can be downloaded from online music stores like Napster and Virgin Digital, or from their very own Commodore Music Store.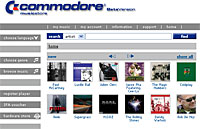 Videos can also be downloaded from the Internet or transferred from PCs via USB 2.0, or stored on SD memory cards.
The new handheld forms part of a series of new products announced by Commodore at the Internationale Funkausstellung (IFA) in Berlin.
The company has entered into a partnership with SupportPlus Europe, for the distribution and sales of Commodore products in Europe.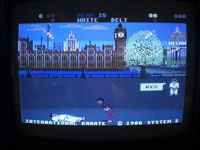 The two companies presented a wide range of shiny new consumer electronic products for consumers and the retail market, including MP3/MP4-players, C64 gaming joysticks, multimedia download dispensers and home media centers.
The management of YNMO and SupportPlus anticipate gross revenues from the Commodore Products in the European market to exceed 162 Million Euros within 3 years.
"In the '80s and '90s the name Commodore represented successful, innovative and technically first-class products," said Ben van Wijhe, CEO of YNMO.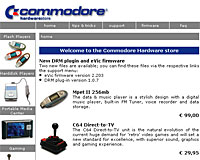 Building up to the required mutual backslap, he added, "Therefore the management of Yeahronimo and SupportPlus believe it is an obligation, when using the Commodore name, to continue offering the electronics consumer with products that have a high-quality and are attractive in price. SupportPlus already has showed they are an excellent partner in the historic re-launch of Commodore."
www.commodoreshop.com
www.commodoreworld.com
Commodore/Amiga history