Armchair football fans around Europe will soon be able to enjoy live Champion's League matches over the Internet and mobile phones.
The European Commission has declared its intent to promote the beautiful game over a range of platforms in an attempt to mollify European commission competition authorities who want to see rights owners promoting mobile phone and Internet usage.
A spokesman at football bosses UEFA confirmed that all broadcasters showing games live would be "obliged" to screen them online simultaneously.
By linking live television rights to the Internet package, UEFA hopes to calms the fears of broadcasters who suspect that a separate online deal would cut deeply into their audience figures.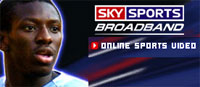 Champions League coverage in the UK is provided by BSkyB and ITV (both of whom look likely to retain their current rights), and the Internet simulcasts could provide a honey pot for new revenue streams with advertising and betting partners.
This may cause some friction with the big clubs like Man Utd and Arsenal who may be planning their own lucrative online propositions.
With media regulator Ofcom reporting that more than 8.1 million UK households now boast broadband connectivity, Internet television on demand is set to become, well, a household name.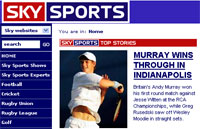 BSkyB has already announced its commitment to IPTV – programming delivered over broadband PCs or TV sets – and from later this year, premium package subscribers will be able to access content via a Sky Sports and Sky Movies broadband service.
The service will offer 200 on-demand movies with sports junkies being able to access news, interviews and highlights (like wonderful Cardiff City goals) through the online sports channel
From 2006 the service could be offering Champions League games live, ensuring that only Sky Sports subscribers are able to log on, with non-subscribers having to fork out a pay-per-view premium.