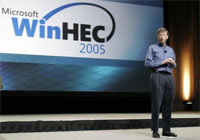 After several years of delays, Microsoft has assured computer-makers that Longhorn, the next version of Windows, is on track for release by the end of next year.
The new operating system has taken so long to appear, even Bill Gates conceded that he was impatient to see the job finished: "Whenever I see those demos, I just think, 'Gosh (steady on Bill!), let's get Longhorn done'" the Microsoft overlord told the Windows Hardware Engineering Conference in Seattle.
The software uber giants were at the conference to show off some of the underlying technologies and features planned for Longhorn, originally promised waaaaay back in 2003.
Ol' Bill was on hand to demonstrate Longhorn's new graphic interface, claiming that it offers better ways to visualise data, with users being able to see through windows that are stacked on top of each other.
His speech also enthused about Longhorn's "more natural file organisation" offering faster searching and Microsoft's big focus on security: "If you had to take one area where we put the most investment in, the security area would be the head of that list by a significant amount," he said.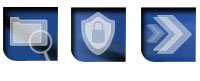 Longhorn aims to boost security by placing cryptographic keys in special silicon chips built into PCs – a more secure solution than the current practice of storing encryption locks as data on a hard drive.
This chip would render sensitive files inaccessible, even if the dastardly hacker was trying to boot the machine from a portable hard drive or floppy disk.
Not everyone has welcomed this initiative – christened the Next Generation Secure Computing Base (NGSCB) – with Microsoft cynics, critics and privacy advocates suggesting that it offers a back door for commercial interests to nefariously gain access to personal PCs.
There are also deep suspicions that the chip could be used to enforce highly restrictive DRM schemes for music, movies and software.
A less controversial new feature is Microsoft's attempt to take on their Macromedia-guzzling rival, Adobe, with a new technology called 'Metro'.

This would offer a built-in method to let users view and print graphical documents, without the need to install the application that created the original file – in other words, a rival to Adobe Systems' popular PDF technology and PostScript page description language.
"When I look at Metro, I see PDF and PostScript in the crosshairs," ruminated Jupiter Research analyst Joe Wilcox. "Adobe is a very successful company, and PDF is an entrenched technology, but Microsoft is doing what it always is trying to do, and that is woo the developers with an alternative."
Microsoft's hardware conference comes just a few days before Apple releases its operating system update, Mac OS X Tiger, which offers a fast file-searching feature similar to the one promised in Longhorn.
This similarity has set the two companies at each other throats as they argue about who copied who.
At Apple's annual meeting last week, CEO Steve Jobs hissed that Microsoft was "shamelessly" copying OS X, cattily adding, "They can't even copy fast."
Microsoft group Vice President Jim Allchin was having none of it, claiming that it was Apple that "became fixated on Longhorn" after Microsoft showcased some early file-searching capabilities at a conference in October 2003.
"I think they saw something that we were doing that was pretty cool," Allchin commented, huffily adding that "There is a question of how much we should show, so that they can try to copy again."
Longhorn's long-delayed release in 2006 will mark a full five years since the release of Windows XP – in computer terms, that makes XP almost Neolithic.