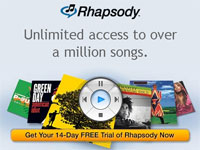 Real Networks is looking to up-end Apple's iTunes store and nobble Napster To Go by launching a new music subscription services for portables music players.
The Seattle-based outfit, who are this month in their tenth year, is looking to extend its Rhapsody subscription music service, which currently lets home users and subscribers download as many tracks to their computers as they want for US$9.95 (£5.22/€7.66) a month.
The big shocker is that after years of scratching each other's eyes out, Real has decided to license digital rights management (DRM) for their service from its once bitter rival, Microsoft.
The Microsoft software, code-named Janus, will disable songs from playing on devices once a customer stops paying the monthly fee.
The new music service comes in three flavours: Rhapsody 25, Rhapsody To Go, and Rhapsody Unlimited.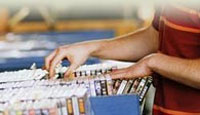 Rhapsody 25 is the entry-level standard service which is completely free to use. It's being supported by advertising, initially Chrysler and is designed to tempt people to subscribe. It allows anyone who downloads Rhapsody's Windows-based jukebox software to listen to 25 songs for free each month from Rhapsody's library, with the option to purchase and download songs a la carte. There will also be 25 ad-free radio stations available.
Users of this freebie will also be able to share their selected music with others, even non-subscribers. When the generated email arrives, access to the DRM-controlled content is made, downloading them the software if they don't already have it. Real hope they will benefit from the network viral effect.
The Unlimited deal is pretty much what is currently offered, provides a subscription-based service that costs US$9.99 per month, giving users access to 100 pre-programmed Internet radio stations, 50,000 "artist-based" radio stations and more than 1,500 music videos online. A few bells and whistles have also been added.
Subscribers can download an unlimited number of songs to their computer's hard drive and these remain playable for as long as they remain subscribers.
Rhapsody To Go offers a near-identical subscription-based deal as Napster To Go, letting users download a near-unlimited amount of music to compatible portable music players. The price is identical to Napster's offering too at US$14.95 (£7.85/€11.52) per month.
That's all fine and dandy while they're shelling out the cash, but as soon as a subscription ends – whoosh! – there goes their music collection, as every song they've downloaded is automatically rendered unplayable.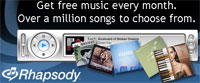 It's been likened to having your CD collection on permanent hire purchase – once you lapse on your payments, you can kiss goodbye to your tunes. To old-school music fans, not owning your precious sounds is a bonkers proposition, but both Real and Napster believe there's a market for subscription-based music downloads, with punters excited by the promise of filling an entire iPod for less than the price of two CDs.
The MS Janus DRM protection demands compatible portable music players, ones that turn the content off if the subscription lapses. Currently there are two favorites, the Zen Micro and iRiver H10. To further induce subscribers to the To Go service, Real are offering a US$100 (€77/£52) rebate on the H10 for a limited period.
According to recent estimates, the subscription market – comprised of Real's Rhapsody, Napster and Yahoo's MusicMatch service – is reckoned to generate about US$200 million in 2005 sales. Indeed Real announced they had passed one million subscribers last week.
By comparison, the digital music downloading business made popular by Apple's iTunes service, is expected to rake in around US$350 million in 2005 revenue, according to Phil Leigh, an analyst at market research firm Inside Digital Media.
Real Rhapsody
Watch Real CEO, Rob Glaser introduce the new Rhapsody