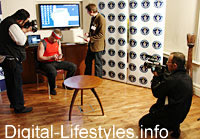 Digital-Lifestyles were on hand to witness a new world record being created, as former World Text Champion Arttu Harkki used a Treo 650 smartphone to type the fastest-ever email on the move using a QWERTY keyboard – using a single thumb.
Harkki of Finland looked ready for business as he strode into the room of assembled hacks, his sports vest and multi-coloured headband giving the air of an Eastern European shot-putter.
But Harkki wasn't here to lob heavy balls around – he was here to unleash his high speed thumb on a Treo 650 – and claim that much prized smartphone texting record!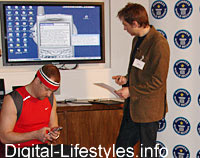 Before the record attempt could start, Hein Le Roux, official adjudicator from Guinness World Records explained the rules, "There are a lot of phones that incorporate QWERTY keyboards, and we need to make sure that the record is standard across all models. For this reason, we asked Arttu Harkki to type using just the thumb of one hand."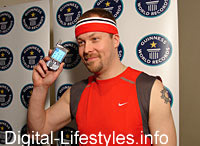 As the stopwatch-toting Le Roux looked keenly on, Harkki's mighty uni-thumb went supernova as he bashed out the following message:
"The telephone was invented by Alexander Graham Bell (UK), who filed his patent for the telephone on 14 February 1876 at the New York Patent Office, USA. The first intelligible call occurred in March 1876 in Boston, Massachusetts, when Bell phoned his assistant in a nearby room and said 'Come here Watson, I want you.'"
After several attempts, Le Roux announced that Harkki had managed to complete the message in just 2 minutes 22.9 seconds. Huzzah! A new world record!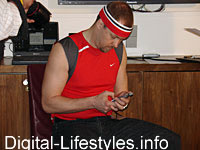 Once I'd recovered from the high octane excitement of watching someone write a text message repeatedly, I asked Le Roux what the previous record had been, and was surprised to find that there hadn't been one, because this was a new category.
So, in other words, if I'd stepped up before Harkki, I could have been crowned world champion.
Only for a few minutes, of course – but (best Brando voice – thanks Brian) I could have been a contender!
For you reference (and we know you like the detail), Arttu gained the record for SMS speed typing (2 min 58 sec) back in 2001. The record from today is for a message typed on a mini-QWERTY keyboard.