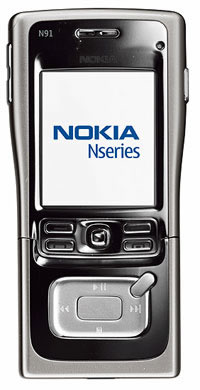 Nokia has launched three new Nseries mobile multimedia handsets, capable of taking print-quality pictures, playing MP3s, reading e-mail, browsing the Web sites and viewing mobile TV.
They might sound like a collection of night buses, but Nokia's N90, N91 and N70 phones could represent a major step forward in multimedia mobile convergence.
"This next step in digital convergence brings together mobile devices, Internet content, still and video cameras, music, email and much more. Nokia Nseries devices share similar design traits as mobile phones, but they are actually powerful pocketable computers with a comprehensive set of multimedia features," said Anssi Vanjoki, Executive Vice President, Multimedia, Nokia.
Nokia N91
The Nokia N91 multimedia handset looks to be facing up to Apple's iPod, offering a two megapixel camera, Bluetooth and a 4-gigabyte hard disk, (capable of storing up to 3,000 CD-quality songs) inside its natty stainless steel case.
Serving up to 12.5 hours of sound via the included remote-control headset, the Nokia N91 supports a wide range of digital music formats including MP3, M4A, AAC and WMA.
Playback is made easy with dedicated music keys on the phone's face, which slides down to reveal the phone keypad.
"The Nokia N91 delivers both a fantastic music experience and cutting-edge phone features," purred Jonas Geust, Vice President, Music at Nokia. "What sets the Nokia N91 apart is the fact that it is always connected – you can download new music while on the move, add it to your favourite playlist and then share your playlist with friends. It's truly the world's best mobile connected jukebox."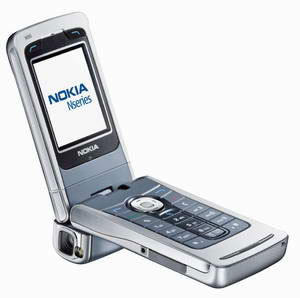 Nokia N90
The N90 features a twister-tastic, rotating camera barrel which fires up the phone's 2 megapixel camera (with Carl Zeiss lens), offering autofocus, an integrated flash and 20x digital zoom.
The tri-band phone's main display has a 352 x 416 pixel screen (262,144 colours), with a secondary 128 x 128 pixels display on the front.
With its pioneering multi-hinge twist-and-shoot design, we have brought ease-of-use and high quality photography into mobile telephony," enthused Juha Putkiranta, senior vice president of multimedia imaging at Nokia.
Using the main screen as a viewfinder, the N90 can capture high quality video in MP4 format, with a 8x digital zoom.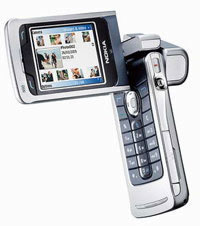 Images, videos and sound can be stored on the phone's internal 31 MB memory or on the supplied 64 MB RS-MMC
The 3G-enabled N90 is expected to be the first to hit the market this summer, with a suggested retail price for the N90 is €700 (~US$909 ~£474),
Nokia N70
Finally, the 3G-enabled Nokia N70 once again features a 2 megapixel camera, flash and front camera for video calling, with a FM radio, a digital music player and new 3D games.
The camera is activated by a rear sliding cover, with a range of capture scene settings available, including Scenery, Portrait, Night, and Sports.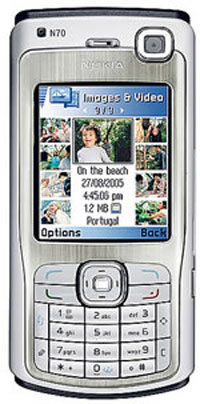 Joe Coles, Director of imaging product marketing at Nokia, stressed the consumer demand for camera-enabled mobiles: "The number one reason why people today purchase new handsets is the camera. Indeed, we foresee that by the end of 2005, over half a billion people worldwide will own a camera phone."
Measuring a diminutive 108.8 x 53 x 17.5 mm, the Nokia N70 is the smallest ever 2 megapixel 3G smartphone based on the Series 60 Platform and is expected to be available in the third quarter of 2005.
This new range of innovative phones represent further evidence of the convergence of consumer devices, with mobile phone makers keen to get a lion size bite of the action.
Nokia already claims to the biggest camera vendor in the world, and anticipates that these new phones will help secure its position as the largest seller of portable MP3 players later this year.