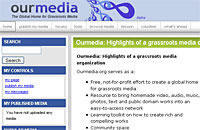 See our interview with co-founder of OurMedia, JD Lasica
OurMedia is a new community site providing online media creators a place where they can publish their content and share it with others, for free.
That last bit is important. Free. Nowt. Zip. Nada.
Anyone who creates digital media – whether it be podcasts, video blogs, photos, whatever – will soon learn that there's no such thing as 'free' web space when you're looking for a place to host those large media files.
Either you have to put up with a web page plastered with adverts or you'll be lumbered with punitive restrictions on your bandwidth allowance.
Once you've got your latest artistic meisterwork online, the next problem is letting people know about it – unless you've got a degree in marketing or a hefty advertising budget, your video may get less hits than the Wurzels.
But – oh the cruel irony! – if by chance your work does become the hit'o'the web, you'll be busting through your bandwidth allowance like an over-excited steam train and face having your page pulled by your web host – or be lumbered with wallet-draining excess fees.
And here's where the self-styled "grassroots media organisation" OurMedia come in.
Using their service, video bloggers can log into the site, use the 'upload' tool to transfer their 50 meg video onto their server and waheey! – the file is now hosted online, complete with its own Creative Commons license – and with no bandwidth or file size restrictions.

Because it's a community site, multimedia files can now potentially be seen and shared by thousands of people, with film makers and video buffs able to link to each other's work, pool resources and share tips.
So what's the catch? Well, none really, so long as you're the sharing, caring kind.
Supported by free storage space from the Internet Archive, a nonprofit digital library backed by the entrepreneur Brewster Kahle, ourmedia's mission statement explains that they are a "free, not-for-profit effort to create a global home for grassroots media".
Their mission is to provide a "resource to bring homemade video, audio, music, photos, text and public domain works into an easy-to-access network" with the site acting as a "clearinghouse" to allow others to "search for video or music, download it, and reuse or remix it, with proper attribution. All legally."
After the huge success of text blogging, pundits are predicting that video blogging (vlogging) could be one of the Next Big Things to hit the web, with a new audience tuning into alternative on-demand services, like a sort of alternative TiVo online.
Ourmedia.org The idea must be good, their servers appear a little slow