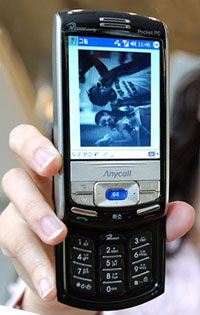 Samsung's R&D team's crack-like addiction to creating new products continues apace with the announcement of a new Wireless LAN Music Phone.
Their all-singing, all-dancing SPH-M4300 LAN music phone allows users to watch a variety of television broadcast and Internet contents on the handset, and comes with a built-in 'powerful sound system', featuring dual speakers.
Now, when someone says 'powerful sound system', we think of an all-night squat party rave with bass bins the size of small continents, but Samsung are talking about how their adoption of SRS technology (a 3D sound technology usually used in MP3 players) will give the SPH-M4300 a sonic edge over their rivals.
Despite boasting more multimedia widgets than an interactive James Bond robot, the handset is a slim (114×59×25mm) slider-style phone, featuring a 2.8-inch LCD, a nippy 520MHz CPU and a 1.3 megapixel camera.
Running on Microsoft's mobile operating system Pocket PC 2003 Phone Edition, users will be able to run applications like Outlook, Word and Excel, with the latest Windows Media Player on hand for playback of multimedia content like movies and music.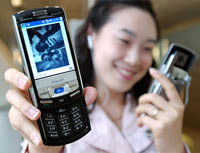 Sadly, there's no QWERTY keyboard on the handset.
There's been no announcement about internal storage capacity or expansion card slots, or if the unit supports Bluetooth as yet.
We like the look of this one, and (if it ever makes it out of Korea) the inclusion of wi-fi streaming could give it an edge over the hugely-selling PalmOne Treo 600/650 range.