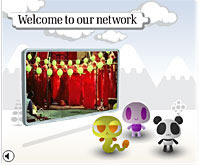 With a long parp on their PR trumpets, 3 notched up another first with the launch of "over-the-air" real-time multiplayer games over their network.
The service will go live in April and allows up to four gamer dudes to frag the feck out of each other in real-time over the 3 network.
The first real-time multiplayer games to be made available will be No Refuge, an explosion-tastic, tank battle war game supplied by Mobile Interaction.
Next up will be Synergenix's Lock 'n Load, a shoot'em up game with even more explosions, followed by the turn-based multiplayer game, Cannons Tournament, a shoot and fire cannon game supplied by Macrospace. With explosions, naturally.
The real-time multiplayer gaming environment is supported on Terramove, a gaming solution from TerraPlay, allowing publishers to develop multiplayer games for the 3 network.
3 also announced advanced games boasting "near console quality", which will, apparently, "bring the real gaming experience to UK mobile for the first time".
The "near console quality" games will be made available to customers through the 'Today on 3' service and will include Rally Pro Contest and Lock 'n Load, both 3D games.

These console-esque games are being supported on the 3 network by the Mophun gaming engine that is being supplied to 3 by Synergenix.
Gareth Jones COO of 3 was on hand to big up the offering: "3 has consistently been the first to deliver the very best on 3G. As the fastest growing UK operator, this is an exciting new development in our service offering. Combined with our great value and market-leading handset portfolio, 3 continues to set the benchmark for the other operators to follow."
Graeme Oxby, Marketing Director of 3 was quick to join the quote action: "As the success of our music service demonstrates with over 10 million downloads in 6 months, 3 has learnt how to package and deliver compelling products over 3G. In Gaming, we are doing the same thing – picking the right games for 3G and delivering services that are immediate, fun and accessible at affordable prices."
3 is currently the only UK operator to offer customers the choice of buying and renting games. Game-junkies can either pay 25p for a one game fix or double their money for up to three days of play on a game – this lets them see if they like the gear on offer before buying it.
With the 'buy' option customers make a one off payment, of between £3 (US$5.7, €4.3) and £7.50 (US$14.25, €10.8) and then have continuous use of the game on their video mobile till their fingers are reduced to stubs.
The 'near console' quality games will initially only be available on certain models and cost £7.50.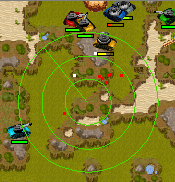 The announcement of these advanced handheld games would suggest that 3 is pro-actively targeting the lucrative console market, and looking to lure potential Gizmodo, DS and PSP customers.
We suspect that their success will depend greatly on how the games match up to the 'near console' quality claims.
After all, the Sinclair C5 was nearly a great idea….