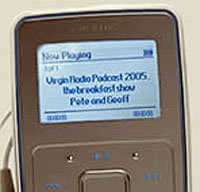 Virgin Radio is making highlights of its breakfast show available for digital audio players like the iPod, in what it claims is a first for "podcasting".
The station began making its Pete and Geoff show available to download today, saying it is the first UK station to podcast a daily show.
Podcasting allows audio programmes to be downloaded and later replayed on a computer or popular digital audio players such as iPods, Creative Zens or Walkmans.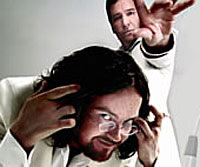 The BBC has already been experimenting with the new audio distribution model, introducing weekly podcasts of Five Live's weekly sports quiz Fighting Talk after a successful trial using Melvyn Bragg's 'In Our Time' series on Radio 4, downloaded by more than 70,000 users.
Listeners can sign up to the service on Virgin's Website, with a link encouraging users to download the free iPodder desktop software for Windows, Mac and Linux.
Once subscribed to the service, listeners will get the latest show highlights every time they synchronise their MP3 player with their computer.
The Virgin podcast sidesteps the still-unresolved copyright issues of distributing music via podcasting by simply editing it all out – Virgin will serve up a half-hour edit of its four-hour breakfast show with all the music, news, weather, traffic and travel cut out.
Interestingly, the UK government Central Office of Information and online travel company Expedia are sponsoring the service via what Virgin cringingly describes as "podvertising".
Virgin Radio sales director Lee Roberts said: "Radio stations have to adapt to the changing market and new platforms in order to create new revenue channels. We're proud to be the first with podvertising."
The Virgin sponsorship deal ensures that their podcasts will be relatively ad-free, although some advertisers may be reluctant to invest too heavily in a format where the 'fast forward' key only an iPod twitch away.
Pod casting has already taken off in the United States but has been slow to find an audience in Europe.

Although the format is already creating a few podcasting stars, it has to be said that most of the thousands of personal radio broadcasts currently available to download are home-made, rough-edged, and, frankly, pretty crap.
With increasing sales of MP3 players sales, there's every possibility that Virgin's commercial initiative may help push the format into the mainstream.
Virgin Radio Podcasts
Adam Curry Wants to Make You an iPod Radio Star (Wired)
iPodder