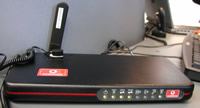 (Hannover, Germany) Since November, Vodafone has been offering Vodafone At Home Talk in Germany. When using the service, calls that are made from the subscriber's home cell are charged at a low cost, with one of the bundles available being 1,000 mins for €20 month.
Today at CeBIT Vodafone announced adding to this to include Vodafone At Home Web. By plugging in a Vodafone Connect Card into their computer, subscribers can connect over 3G (UMTS) at 384kbs for a fixed €34 month (£23/US$45>. In return you get up to 60 hours/ 5Gb of access.
In Q2 2005 they will be expanding this to Vodafone At Home Talk and Web. The subscriber will plug all of their current equipment (landline handset, DECT phone, computer, fax, etc) into the box (price being floated, €500/£348/US$671). This box will connect via GSM and UMTS (3G) to the Vodafone network to enable voice and data comms.

In the UK BT Bluephone is designed to provide a similar service for phone calls.
We're seeing this for the personal and professional nomad. The tech savy who land in an area for a period of time, then move on – eg consultants, or criminals on the run (please don't confuse the two). It will also be of use in areas where broadband service don't extend out (eg rural areas), but 3G networks coverage is possible – how ever limited this may be.
This could also be seen as a defensive move. Voice over WiFi is coming to the masses, from big, well known companies (witness AOL and Wannado) and deals like Skype did with Broadreach for free WiFi hotspot usage are going to start to hit the mobile companies hard.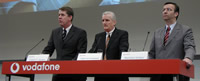 During the press conference I asked what they were doing to counter the threat of Voice over WiFi, in particular free service like Skype. Friedrich P Joussen (COO) said they were very aware of the threat and felt it was down to the speed that services could be rolled out to the public.
He referred to a lot of VoIP services (Vonage, etc) charging fixed-rate/catch-all monthly prices, to account for when call traffic leaves the IP network to interconnect with PSTN and charges are levied against them by the PSTN operators. Vodafone's first move against this is by offering a 1,000 minute service for €20/month detailed above.
This doesn't, of course, begin to address the competition that a zero-cost/month service like Skype offers.