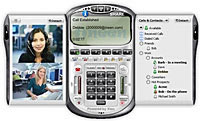 With the soaraway success of Skype's VoIP client, we've been waiting for other companies to try and elbow themselves a piece of the action.
Hot off the blocks is the rubbishly named ineen, a new piece of P2P IM software pushing all the right industry buzzword buttons – VoIP, P2P, video conferencing, free, open standards, cross-platform – in a package that the makers are claiming is "easy and free to use".
If you're going to try and take on something as popular as Skype, you've got to attack its weaknesses. Given a lot of Skype calls and its software are free, you're not going to compete on price. One vulnerability Skype has is that it's not based on open standards, despite them being freely (pun intended) available.
Built using Xten's eyeBeam SDK, the client makes use of SIMPLE for P2P IM and Presence. VoIP is supported by SIP and the Video media is H.263[+].
ineen uses SIP [Session Initiation Protocol] and other open standards which makes it interoperable with various SIP networks including Free World, Dialup, SIPphone, TerraCall and Iptel.org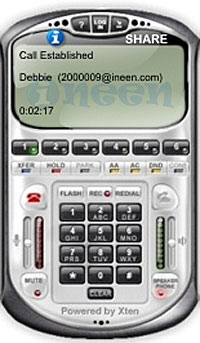 Sadly, none of the bigger IM networks [AOL/ICQ/Yahoo/MSN Messenger or Skype] use SIP, so you won't be kissing goodbye to your favourite IM application quite yet.
Ineen offers video conferencing, with conference support for up to four users and audio conferencing for up to ten chatterers.
The interface looks slicker than Frank Sinatra on a hot date, although the less technically minded may run screaming to the hills when presented with its feast of buttons and blinking lights.
What isn't so slick, however is ineen's insistence of users using "phone numbers" to create computer-to-computer VoIP calls and we're a little concerned by the lack of published technical details or details of their business model.
Unlike Skype's proprietary technology, ineen was created with Open Standards, that it hopes will ensure greater future inter-connectivity.
The software is currently available for PCs and Macs, but there's no sign of PocketPC and Palm versions on the horizon.
Thanks to Pete Ferne for the tip.