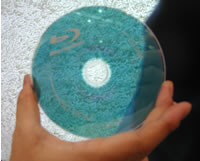 In a board meeting yesterday, Apple computers committed to join the Blu-ray Association and will occupy a seat on the main board.
In the battle of Blu-Ray vs HD-DVD disc formats, this is pretty big news. Although in the current percentage of computers sold, this isn't a massive surprise, with Apple keen on pushing themselves (successfully) as a media company, this will have a significant impact on the success of the Blu-ray disc format.
Importantly Apple joinging will generate lots of news discussion about Blu-ray. On that note … did you know that pre-recorded Blu-ray discs were see through? Me neither, until I got my hands on one at the Sony press launch (see image at top of story).
Currently Dell and HP are the other two computer companies that sit on the board. Apple will be the 16th company to join the board, joining the 110 companies that have committed to Blu-ray.
Steve Jobs said "Apple is pleased to join Blue-ray Association board as part of our effort to drive consumer adoption of HD." In return Apple will include the same HD video CoDec that Blu-ray uses in QuickTime 7.
There's big money and effort being put behind the success of Blu-ray, and with a lot of content companies, CE companies and, computer companies getting behind it, it appears to be pulling ahead.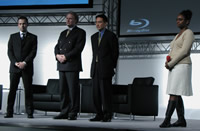 Blu-ray has been shipping in Japan now for quite some time. Sony's BDZ-S77 (catchy name) was the first product to ship, and has been followed by other companies, some of which support the dual-layer 50Gb version.
During CeBIT, Philips and Sony have announced computer drives capable of burning Blu-ray disks, or "BD" as those in the know call it. The first Blu-ray consumer device to hit the market in US and European market will be the Sony Playstation 3.
Why does anyone need it? The quick and simple answer is HD TV. Because of the resolution of an HD picture, considerable amounts of storage are required. By 2008 12% of European homes will have HD-capable TV, and more importantly, at the same time, 3m homes to have HDTV service. Clearly HD is already big in Japan and in growing the US.
Blu-ray disc carry 25Gb per layer. There are two layers currently in market, single and dual layer. Others multi-layers discs are being brought to market and we understand that Sony has an eight layer, 200Gb disc running in the Lab.