AB (formerly ZOOMON), has announced Ikivo Animator for Windows, a Mobile SVG software application for producing high-quality SVG Tiny animations.
Designed to work with the industry-standard Adobe Creative Suite, Ikivo Animator offers tools to let designers and developers rapidly design, animate, test, and deploy rich Mobile SVG content to mass-market devices.
"Adobe Creative Suite has revolutionized print and Web workflows and is now poised to have a similar impact in mobile content authoring," said John Brennan, senior vice president of business development at Adobe.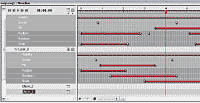 "Designers have previously been hampered by the lack of visual design tools for authoring mobile SVG content. Working with Adobe, Ikivo is introducing an effective mobile content creation workflow based on Ikivo Animator and Adobe Creative Suite, enabling designers and developers to create extraordinary content for mobile distribution."
Ikivo is hoping that their software will soon become an integral tool in a mobile designer's armoury and we'll all soon be grooving to Ikivo-created cray-zeee animations on our handsets.
SVG content created in Illustrator CS can be imported into Ikivo Animator where a set of tools will allow designers to move, scale, rotate, and change their attributes over time; embed interactivity; and output the finished animation in SVG Tiny.
In-between cappuccinos, designers can use the preview tools in Ikivo Animator to see how their work will look on different targeted mobile devices.
Designers can then incorporate their animated SVG Tiny graphics into XHTML pages or MMS presentations using GoLive CS.
This new workflow enables designers and developers to prepare animated SVG Tiny graphics, such as comics, infotainment, location-based services, maps, financial services, and – more than likely – really irritating cartoons for distribution to mobile consumers.
Ikivo CEO Stefan Elmstedt comments "Ikivo solutions are being used by major phone manufacturers, such as Siemens, Sony Ericsson, and network operators throughout the world. Now we are extending that value by partnering with Adobe to provide strategic mobile solutions.

The combination of Adobe's design and publishing power and Ikivo's unique Mobile SVG software applications create a fantastic push for overall support of Mobile SVG within the emerging market for 2D based mobile graphics."
Ikivo Animator for Windows is available immediately with Ikivo Animator scheduled for release in the first quarter of 2005.