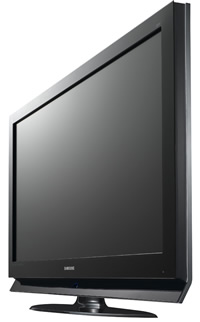 After getting the world very excited about their yet (if ever) to be produced 102″ plasma (PDP) screen, Samsung has today just announced the availability of a 82″ LCD TV. It's for people who don't live in houses with lounges (or media-consumption-arenas as they may become to be known) that are the size of the Albert Hall.
It's not possible to commercially produce a single 82inch panel, so they seamlessly combine four 40″ LCD panels. For all of you firsts followers, Samsung are also claiming it to be the worlds first screen to offer 180 degree of viewing angle, something that other companies are going to struggle to better – and even if they do, why would they?. If you're interested, these are produced using Samsung's seventh-generation LCD process.
Not surprisingly, it can display full HD (High Definition) 16:9, 1920 x 1080 resolution, with a contrast ratio of 10,000:1 and a response time of 8ms. With this, we're day dreaming thoughts of video gaming on this beauty – live the action.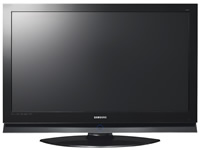 If you're looking for a slightly more pedestrian use for it, it's fitted with an HDMI interface, so all of that HDCP-protected content can be displayed on it.
As a side note, it was interesting to see how many people were at the press conference. Seating capacity was 400 and there was about a hundred extra standing. Samsung has become a company that now demands press interest.