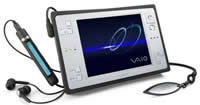 The latest addition to Sony's VAIO range of personal computers is really, really different. The VAIO VGN-U750P (around US$2,000) is a palmtop computer that also goes under the more firendly name of the Vaio U and weighs considerably less than the average laptop (167x108x26mm, 550g), yet boasts a fully fledged Intel-based environment running Windows XP Professional SP2 as opposed to the specialised platforms powering other handhelds, such as Palm OS, Windows Mobile or even Windows XP Tablet PC Edition.
Empowering you to actually work and view photos and video on the move – rather than simply manage e-mails and calendars – the diminutive system boasts a 1.10GHz Intel Pentium M processor, 512MB of system RAM, an accommodating 20GB hard disk drive (4,200rpm), as well as an Intel 855GM graphics card with 64MB of shared video RAM. In addition, it has a touch-sensitive, 5in. colour display with XBrite LCD technology that has a relatively high native resolution of 800×600 pixels (16-bit colour depth) and can output to an external VGA display, courtesy of an add-on port replicator. Of course, similar to any handheld worth its money it's heaviliy connected, there's also built-in 100Mbit/s Ethernet and 802.11b/g connectivity, as well as single FireWire and Memory Stick ports, four USB 2.0 ports and a CompactFlash Type II card slot for importing files or digital photos from a variety of digital cameras.
Sony has thought about productivity, too. Utilising proprietary software, the VAIO VGN-U750P supports handwriting recognition and other features similar to those found in Tablet PCs, such as a virtual keyboard and a multi-point navigational stick to control the system. There are also a few dedicated buttons to perform frequently-used commands, and thumb controls let you change the display orientation on the fly, from landscape to portrait mode and back. You can also connect the supplied foldable keyboard for 'rapid' text input on the move, or hook up the bundled headphones with remote control capabilities for audio and video playback.
It's encouraging that Sony is actually releasing this after the many rumours that it had been shelved.