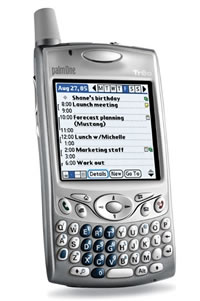 A finer, mellow blend of phone and PDA, PalmOne launched the Treo 650 in the US yesterday. There are changes on the outside and changes on the inside – some cosmetic, some ergonomic, and some fundamentally technical. I'd be happy to ditch my current phone if I won this in a raffle!
PalmOne plans to make two versions of the Treo 650. A dual-band version will support CDMA/1XRTT cellular networks, used by Sprint PCS and Verizon Wireless. A quad-band version will run on GSM networks, used by T-Mobile, Cingular Wireless and AT&T Wireless. The GSM model will also support AT&T's EDGE, a higher-speed data network. But built in Wi-Fi support is still missing as is, we understand, support for PalmOne's own add on WiFi cards. We expect this is bowing to pressure from cellular providers who are terrified of Voice over WiFi eating their high-charging services for breakfast.
The Treo 650 has a higher-resolution screen – 320 by 320 pixels compared with the Treo 600's 160 by 160 pixels.  It's faster with a 312MHz Intel processor compared with the Treo 600's 144MHz Texas Instruments chip, while memory capacity remains the same at 32MB.  An improved VGA camera can record video as well as still images and should work better in low-light situations. Storage is provided by Flash memory enabling expansion. The Treo 650 has a removable battery, which gives up to five hours of continuous digital talk time and over two weeks of standby time
A new e-mail application, VersaMail supports Exchange Server 2003, POP3, IMAP4, and SMTP, so 650 users can now connect remotely to corporate networks to get e-mail. Furthermore, built-in Bluetooth Wireless Technology allows you to wirelessly synchronise with Bluetooth-enabled desktop or laptop computers.
Software applications include Documents To Go 7 with native MS Office support allowing you to View and edit Word and Excel documents, an audio player for MP3s, and the new palmOne Media suite from Zire 72.
With all that improved technology on the inside, simple ergonomics have not been forgotten. The 650 has an improved backlit QWERTY keyboard with larger, flatter keys, and strategic button placement for easier one-handed access. 
A touch too far might be the vanity mirror for self-portraits, while a community service to movie and theatre buffs might be the hardware silent switch. Sprint will be the first carrier to offer the smart phone from mid-November, and pricing is expected to be in the $400 (~£217, €312) to $500 (~£271, €390) range.