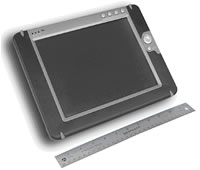 Designed for law enforcement, perimeter security and long-range video links, AValon RF's new wireless range includes receivers, transmitters, remote display units (RDUs) and a variety of specialised antennas. The company's technology provides broadcast quality, interference-free video links over the frequency spectrum of 56MHz to 2.5GHz, allowing security personnel to use a rugged PDA and Tablet PC to wirelessly view video from remote cameras while driving in a patrol vehicle.
For instance, the AValon ICV04 is a four-channel video recorder that lets you record streaming audio and video on an internal hard disk drive at 30fps. It is designed to fit under a vehicle seat and receive commands through a remote control, a computer, or a remote smart display. Recording is triggered manually or automatically by an external signal, such as a siren, flashing light activation, or code 1-2-3 in a police patrol vehicle. The recorded streaming video can be read via a USB port or archived on a standard CD-RW media.
Other features of the neat device include four video/audio inputs for a wireless LC618M lapel camera (or MX416 microphone), windshield camera, back seat camera and a trunk camera, VITC time/date stamping on all recorded video, support for up to 1 hour of recording on a 400MB Dataplay CD, and a USB 2.0 interface-to-vehicle computer/gateway. It utilises standard 12-volt powering and comes in ruggedised enclosure.