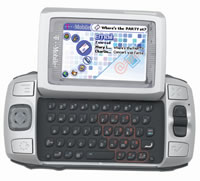 SideKick II, Danger's successor to its Sidekick "smart phone." hits the US shops running on Wednesday.  The launch happens today though in Santa Monica where you can also buy the 25 percent slimmer version a day earlier.
This is a portable office, and not only because the screen swivels open to showcase a full QWERTY keyboard.  What else would you call a device that incorporates instant messaging, email, web browsing, a phone service, and a personal organiser, which stores up to 2,000 personal contacts, all accessible through a simple interface?  Not to mention a built-in low-resolution digital camera with flash, and built-in speakerphone, and enhanced battery life giving approximately 4.5 hours of talk time.  Retailing at $299 (~£166, ~€244) with a one-year contract also makes it a very affordable moveable feast for the mobile professional.  Furthermore, each Sidekick II owner gets a personal Web site, run by T-Mobile and Danger, that automatically synchronizes with the device.
T- Mobile Sidekick II owners get their own email account and can set up as many as three external accounts to deliver email directly to their inbox. Yahoo! Messenger is now available for download to the T-Mobile Sidekick II, in addition to the fully integrated version of AOL Instant Messenger (AIM) service, meaning users can IM their friends and colleagues while surfing the Web.
 
The T-Mobile Sidekick II, based on Danger, Inc.'s hiptop Wireless Solution, will be available through T-
Mobile at T-Mobile retail stores, selected national retailers, and online at www.t-mobile.com.  Along with the launch of the T-Mobile Sidekick II, T-Mobile and Danger plan to introduce software that will enable Sidekick customers to wirelessly synchronize their desktop contacts and calendar information with their T-Mobile Sidekick. This synchronization software will be available for the T-Mobile Sidekick II and previous Sidekick generations.