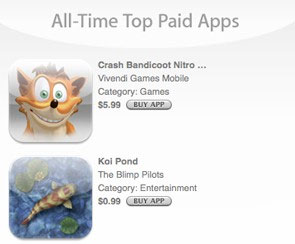 Apple's runaway success of their App Store continues at a rate of knots, and to celebrate the one billionth download the company has released two lists showcasing the top 20 free and paid iPhone apps.
Incredibly, it's just three months have passed since Apple's iTunes store shimmied past the 500 million download landmark
The list puts Crash Bandicoot Nitro Kart 3D at the top of the pile of the paid apps and, not surprisingly, Facebook heads up the free app list.
The huge success of the AppStore has been fuelled by the smart move of setting up a unified one-stop store (currently being copied by every other phone manufacturer on the planet) and by keeping the prices low.
Many of the apps are just $0.99, with Crash and Super Monkey Ball being the most expensive in the list at $5.99 – which is still cheap compared to most games on other platforms.
More than 25,000 applications are now available on Apple App Store, although there's an awful lot of junk in that total, including something like 75 'fart' applications, presumably downloaded by idiots.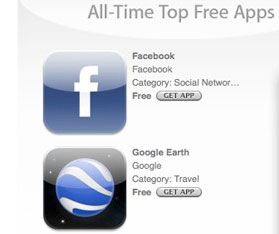 All-Time Top Free Apps
1. Facebook
2. Google Earth
3. Pandora Radio
4. Tap Tap Revenge
5. Shazam
6. Pac-Man Lite
7. Backgrounds
8. Touch Hockey FS5
9. Labyrinth Lite Edition
10. Flashlight
11. Urbanspoon
12. Movies
13. iBowl
14. Lightsaber Unleashed
15. Sol Free Solitaire
16. MySpace Mobile
17. Virtual Zippo Lighter
18. The Weather Channel
19. BubbleWrap
20. Remote
All-Time Top Paid Apps
1. Crash Bandicoot Nitro Kart 3D
2. Koi Pond
3. Enigmo
4. Bejeweled 2
5. iBeer
6. Moto Chaser
7. PocketGuitar
8. Flick Fishing
9. Tetris
10. Texas Hold'em
11. Super Monkey Ball
12. Pocket God
13. Cro-Mag Rally
14. Ocarina
15. Fieldrunners
16. iFart Mobile
17. Touchgrind
18. iHunt
19. iShoot
20. Monopoly Here & Now Edition