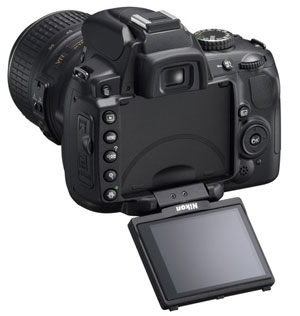 With a deft yank on the new product velvet rope, the covers have come off Nikon's new D5000 upper-entry-level DSLR, which packs a fold out LCD screen and HD video recording.
Elbowing its way into the Nikon range between the D60 and D90 models, the new snapper inherits many of the features of the latter, packed into a slightly smaller, simpler body.
Nikon's new baby inherits the D90's HD movie capability with their proprietary D-Movie function and extensive editing features helping users compose their filmic masterpieces in-camera.
The D500 packs a nifty 2.7 inch, 180 degree Vari-Angle, Tilt/Swivel Live View LCD monitor for grabbing those arty camera angles, while a built-in HDMI socket lets users hook up the camera to admire their creations on their home TV.
There's a 12.3MP sensor onboard with a high-sensitivity range covering ISO 200 and 3200 (this can be extended to ISO 100 and ISO 6400 equivalent), plus four types of contrast AF (wide area, normal area, face detection and new subject tracking), Nikon's innovative EXPEED high-speed image-processing system and 11-point AF system, and no less that 19 scene modes on top of full manual control options.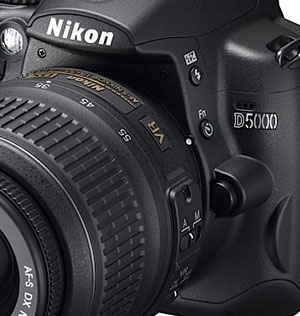 The D5000 is set to retail for £719.99 for the body and £799.99 for the D5000 with a 15-55 VR kit lens – a piece of keen pricing which makes it considerably cheaper than the rival Canon 500D dSLR.
If all this has set you into palpitations of expectant delight, your wait should be mercifully brief, with Nikon scheduling a first of May release date.
Specs:
Sensor
12.3 million effective pixels
Nikon DX-format sized CMOS sensor
Dust Reduction System
Image Sensor Cleaning
Image processor
Nikon EXPEED
A/D conversion 12 bit
Image sizes: 4,288 x 2,848 (L), 3,216 x 2,136 (M), 2,144 x 1,424 (S)
File formats NEF (compressed RAW)
JPEG: Fine (approx. 1:4), normal (approx. 1:8), or basic (approx. 1:16) compression
NEF (RAW) + JPEG (any size)
AVI Motion-JPEG
Movie
File format AVI (Motion-JPEG)
Image size (pixels) 1280 x 720; 24fps, 640 x 424; 24 fps, 320 x 216; 24 fps
Audio: Monaural on/off selection
Exposure: Determined with matrix metering utilizing output from the image sensor
Exposure lock available
Exposure compensation available in P, S, A, M modes
Maximum single clip length: 1280×720/ 5 minutes, others 20 minutes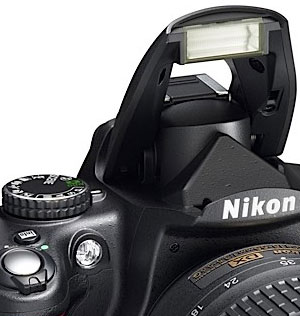 Lens mount
Nikon F mount with AF contacts
Approx. 1.5x lens focal length (Nikon DX format)
Usable lenses
AF-S, AF-I
Other Type G or D AF Nikkor
Other AF Nikkor/AI-P Nikkor
Type D PC Nikkor
Auto Focus
11 focus points (1 cross-type sensors)
Multi-CAM 1000
AF working range: -1 to +19 EV (ISO 100, normal temperature)
Contrast Detect in Live View mode
Lens Servo Single Servo (AF-S)
Continuous Servo (AF-C)
Automated selection of AF-S or AF-C, (AF-A)
Focus Tracking automatically activated by subject's status in (AF-A)
Manual focus [M], Electronic range finding supported
Focus Point Single point from 11 focus points
Center point narrow or wide zone
Liveview (Tripod mode): Contrast AF on a desired point anywhere within frame
AF Area Mode
Single point AF
Dynamic Area AF
Automatic-area AF
3D Tracking AF (11 points)
Focus Lock
AF-assist illuminator
(range approx. 0.5-3 m/1.6-9.8 ft.)
Exposure modes
Program Auto [P] with flexible program
Shutter-Priority Auto [S]
Aperture-Priority Auto [A]
Manual [M]
Auto
Advanced Scene Modes (Portrait, Landscape, Child, Sports, Close-up, Night portrait, Night landscape, Party/Indoor, Beach/Snow, Sunset, Dusk/Dawn, Pet portrait, Candlelight, Blossom, Autumn colours, Food, Silhouette, High key, Low key)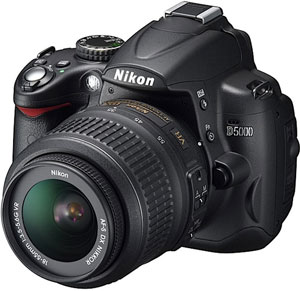 Metering
TTL full-aperture exposure metering using 420-pixel RGB sensor
3D Color Matrix Metering II (type G and D lenses); color matrix metering II (other CPU lenses);
Centre-weighted: Weight of 75% given to an 8 mm dia. circle in centre of frame
Spot: Meters approx. 3.5 mm dia. circle (about 2.5 % of frame) centred on selected focus point
Metering range 3D Color Matrix Metering: 0 to 20 EV
Centre-Weighted Metering: 0 to 20 EV
Spot Metering: 2 to 20 EV
Meter coupling CPU (not AI)
Exposure lock Locked using AE-L/AF-L button
Exposure bracketing
3 frames
Up to +/–2.0 EV in 1/3 or 1/2 EV steps
ADL (Active D-Lighting) bracketing: 2 frames (one with ADL, one without)
Exposure compen. +/–5.0 EV
1/3 or 1/2 EV steps
Sensitivity
Default: ISO 200 – 3200 in 1/3 EV steps
Boost: 100 – 6400 in 1/3 EV steps
Shutter
Electronically-controlled vertical-travel focal plane shutter
30 to 1/4000 sec (1/3 or 1/2 EV steps)
Flash X-Sync: 1/200 sec
Bulb
Time (optional Wireless Remote Control ML-L3 required)
Tested to 100,000 exposures
Active D-Lighting Can be selected from Auto, Extra high, High, Normal, Low, or Off
White balance
Auto (Using main imaging sensor and 420-pixel metering CCD)
Presets (12) with fine tuning
Manual preset
White balance bracketing (3 frames in increments of 1, 2 or 3)
Picture Control
Standard
Neutral
Vivid
Monochrome
Landscape
Portrait
Storage for up to nine custom Picture Controls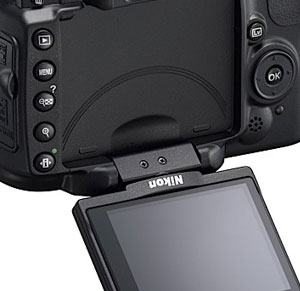 Image parameters
Sharpening: Auto, 10 levels
Contrast: Auto, 7 levels
Brightness: 3 levels
Saturation: Auto, 7 levels
Hue: 7 levels
Quick Adjust; 5 levels
High ISO Noise Reduction (High, Normal, Low, Off)
Color space sRGB
Adobe RGB
Viewfinder
Eye-level pentamirror single-lens reflex viewfinder
Frame coverage Approx. 95% horizontal and 95% vertical
Magnification Approx. 0.78x (50mm f/1.4 lens at infinity, –1.0 m-1)
Eyepoint 17.9 mm (–1.0 m-1)
Diopter adjustment –1.7 to+1 m-1
Focusing screen Type B BriteView Clear Matte Mark V screen with focus frame
Superimposed on-demand grid lines over the viewfinder display.
LCD monitor
2.7″ TFT LCD
Approx. 230,000 dots
100% frame coverage
Brightness adjustment
LCD Liveview
AF
Contrast-detect AF anywhere in frame (camera selects focus point automatically when face priority is selected)
Face priority
Wide area
Normal area
AF tracking
Shooting modes
Single frame
Continuous 4 fps (at shutter speeds over 1/250. 67 Large Fine JPEG, 11 RAW)
Self-Timer
Delayed remote, quick response remote (optional Wireless Remote Control ML-L3 required for remote shooting)
Quiet shooting (doesn't re-cock shutter until shutter button is released)
Self-timer 2, 5, 10, and 20 s
Flash
Auto pop-up type (auto pop up in Auto, Portrait, Child, Close-up, Night portrait, Party/indoor, Pet portrait modes)
Manual pop-up in P,A,S,M and Food modes
Guide number of 17/56 (ISO 200, m/ft.) or 18/59 with manual flash (ISO 200, m/ft.)
Guide number of 12/39 (ISO 100 equiv, m/ft.) or 13/43 with manual flash (ISO 100 equiv, m/ft.)
Sufficient to illuminate the picture angle of an 18mm lens
Flash control
TTL: i-TTL balanced fill-flash and standard i-TTL flash for digital SLR using 420-pixel RGB sensor are available with built-in flash and SB-900, SB-800, SB-600, or SB-400
Auto aperture: Available with SB-900, SB-800 and CPU lens
Non-TTL auto: Supported flash units include SB-900, SB-800, SB-28, SB-27, and SB-22s
Range-priority manual: Available with SB-900 and SB-800
Flash Modes
Auto, auto with red-eye reduction, fill-flash, auto slow sync, auto slow sync with red-eye correction, rear curtain with slow sync.
Flash Accessory Shoe
ISO 518 standard-type hot shoe contact; Safety lock mechanism provided
Flash Sync Terminal No
Flash compensation -3 to +1 EV
1/3 or 1/2 EV steps
Creative Lighting System
Advanced Wireless Lighting supported with SB-900, SB-800, or SU-800 as commander and SB-900, SB-800, SB-600, or SB-R200 as remotes
Playback mode
Full-frame playback
Movie playback
Thumbnail (4, 9, or 72 images or calendar) playback
Playback zoom (image size L up to approx. 27x, M up to approx. 20x, S up to approx. 13x) When one or more faces (up to 10) were detected with shooting, the faces are enclosed in white borders. When playback zoom is applied, different faces can be displayed by rotating the sub-command dial.
Slide show playback
Pictmotion
Histogram display
Highlights display
Auto image rotation
Image comment (up to 36 characters)
Retouch functions
D-Lighting, red-eye correction, trim, monochrome, filter effects, color balance, small picture, image overlay, NEF (RAW) processing, quick retouch, straighten, distortion control, fisheye
Connectivity
USB 2.0 (Hi-Speed) Mini-B connector
PTP transfer protocol
NTSC or PAL video output
HDMI video out (version 1.3a, Type C mini connector provided)
Remote control / GPS terminal
Storage
SD (Secure Digital) memory cards, SDHC-compliant
Power
Lithium-Ion EN-EL9e (Approx. 510 shots, CIPA)
Included battery charger MH-23
Optional AC adapter EH-5a with EP-5 connector
Dimensions Approx. 127 x 104 x 80 mm (5.0 x 4.1 x 3.1 in.)
Weight (no batt)
Approx. 560 g (1 lb. 4 oz.) without battery, memory card, body cap, or monitor cover