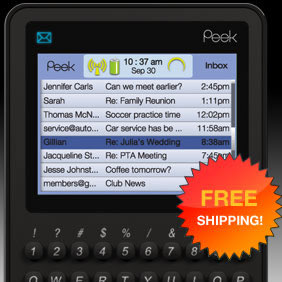 Billed as the 'only mobile device devoted solely to email,' we got our grubby hands on the Peek email gizmo last winter in New York, wand weren't entirely convinced that it was likely to find a home in our gadget-stuffed pockets.
In an attempt to seduce and woo doubters, the company is now back with a new updated version ready to take on the world, the 4 by 2.7 by 0.4 inches Peek Pronto.
Set to retail for $79.95, the Pronto ramps up the functionality with support for up to five email accounts with push and support for PDFs, DOCs and pictures, plus built in search.
The new Peek Pronto is available contract-free on T-Mobile's GPRS network with the service setting you back $19.95 per month – this lets you send and receive unlimited email as well as adding unlimited text messages via an email gateway.
Full QWERTY
As with the original version, there's a full QWERTY keypad onboard, along with the same side-placed control wheel, 8MB of internal memory and 240 x 320 pixels, 2.5″ QVGA 65,000-color display.
Despite the gadget picking up some enthusiastic reviews (Wired described it as one of their favourite gadgets of 2008 and Time called it a 'must have gadget'), we're still struggling to find a way to bring the Peek into our lives.
No UK release announced
The question is somewhat academic at the moment anyway, with no prospect of a UK release in sight. Here's what they told us last December when we asked when the UK may get a slice of Peek:
"We are however testing international support. This functionality will be coming soon and will be a flat rate for unlimited use in all GSM countries in addition to the $19.95 monthly service fee. However, there are no immediate plans to sell outside of the US but stay tuned at getpeek.com for this and all other future product announcements."