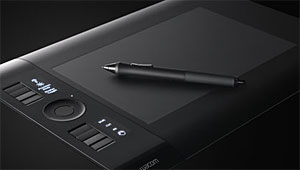 Graphic tablet dons Wacom have whipped out a selection of their next generation of Intuos pen tablets, and we have to say that they're rather a natty-looking selection.
Designed for the 'creative professional' (we'd like to be one of those), the new Intuos4 range adds new features and souped up pen performance, with the pen capable of registering up to 2,048 levels of pressure – which means that it can capture anything from itty-bitty delicate penstrokes down to great manly 'mad artist' strokes.
Wacom claim that all this improved sensitivity will make users feel like they're working with traditional brushes, markers, and pens, but without the paint dripping all over your clothes.
Making the drawing experience so dreamy is Wacom's Tip Sensor technology which serves up what the company claim to be 'near-zero' starting pressure (a mere gram of pressure), so that a flapping butterfly could probably knock out a quick sketch or two.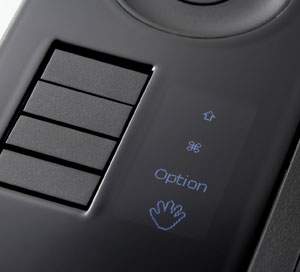 Like its predecessors, the pen also packs a pressure-sensitive rubber/eraser and two side switches for double-click and right-click functions.
Our own Intuos tablet is so ancient it looks like it's been hewn out of a block of hideous beige stone, but the new Intuos4 is a veritable high tech dandy in comparison.
Resplendent in a moody black and grey finish, the tablet includes a configurable Touch Ring (stop sniggering at the back) that lets you control up to four different functions in any application.
In the centre of the ring is a button which lets you speedily switch between functions like zoom, scroll, brush size adjustment, canvas rotation, and layer selection. Being able to zoom in and out of Photoshop with this gizmo looks like a real productivity booster, so we'd be happy to take a free review model off your hands, Mr Wacom.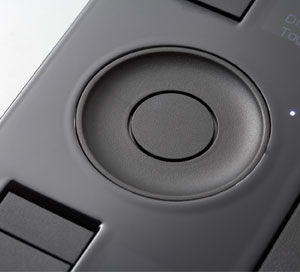 Above and below the touch ring (stop it!) are a total of eight ExpressKeys with illuminated Organic Light-Emitting Diode displays reminding you what they do (on all but the cheapest model). The tablet can be spun around 180 degrees for use by left handers.
The ring of fire
The Intuos4 is available immediately in four sizes, although they're as pricey as ever with Brits given an additional clobber in the goolies with near dollar-parity pricing (even with the rubbish dollar exchange rate, it'll be worth picking up one of these if you're heading Stateside):
Intuos4 Small £199.99 ($229)
Medium £329.99 ($
Large £429.99
Extra large £699.99 ($790)