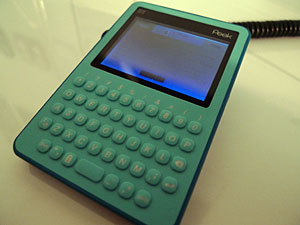 We managed to get a brief hands on with the Peek email gadget at the WiredStore in New York and thought we'd share a few impressions.
This little fella is designed for one thing only – accessing mobile email over the GPRS data network – and comes with a full keypad and a 240 x 320 pixels colour screen (with a rather small font size).
There's 8MB of onboard storage but no expansion options via memory card slots, so you'll be stuck if you want to store emails with large attachments. The Peek can only read JPEG attachments at the moment, but further support for other formats is expected.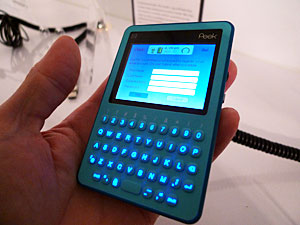 The device measures 4 by 2.7 by 0.4 inches and weighs barely anything – just 3.8oz so you'd have no problem keeping it in your pocket/purse all day.
As well as the QWERTY keyboard, there's a thumbwheel on the right edge for scrolling through lists and menus. An inward click on the wheel select a menu command, and there's a Back/Cancel button below. On the top is a power button.
Described as being for "Anyone! Except for hardcore techies" and the "thinnest thing out there", the Peek works with most popular email providers, including Yahoo, Gmail, Hotmail and AOL.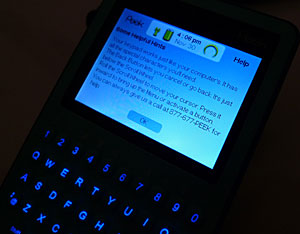 Setting up the device looks easy enough, with the site explaining: "Enter your email address and password …start emailing. It's that easy!"
The device in the WiredStore wasn't set up so we weren't able to start blasting out messages, but we liked the feel of the small, backlit keyboard and felt that it would be a comfortable to type short messages on.
Checking for mail
The Peek checks for new messages on demand or automatically every 5 to 15 minutes, and when new mail arrives you get a little chime, a vibrating buzz and a blinking blue light. If you miss all that lot, perhaps you'd best stick it on your forehead.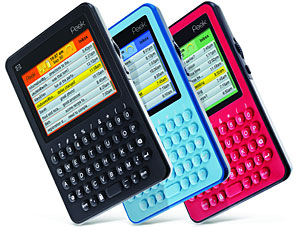 There's no phone functionality built in – nor a calendar, games, radio, alarm clock, Bluetooth or Wi-Fi for that matter – so gadget freaks, step aside.
The company claims that the removable battery should last between two to five days, depending on how much of an email junkie you are.
The Peek comes with a $19.95 monthly fee for unlimited email and $69.95 upfront for the device, but the service is only currently available in the US (we've written to them to ask about UK availability).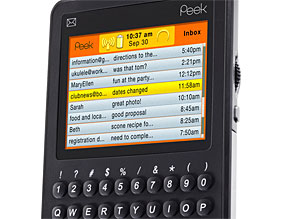 Although we're not convinced that we'd ever feel the need for a separate email gadget – our humble Palm Centro does an excellent job of keeping us fed with emails and that doesn't cost much more – we could maybe see how some businesses may find a use for it. Unfortunately, Peek doesn't work with corporate e-mail yet, although the company says that it is looking into compatibility with Microsoft Exchange and Lotus Notes, with possible support to view Word and PDF attachments.
However, we like the fact that they're trying something different and there's no denying that for people looking for a ridiculously simple and reasonably cheap way of keeping in touch with their email, the Peek provides an economical alternative to the ubiquitous Blackberry.
Update: We received this response to our request for information about a UK release:
"We are however testing international support. This functionality will be coming soon and will be a flat rate for unlimited use in all GSM countries in addition to the $19.95 monthly service fee. However, there are no immediate plans to sell outside of the US but stay tuned at getpeek.com for this and all other future product announcements."