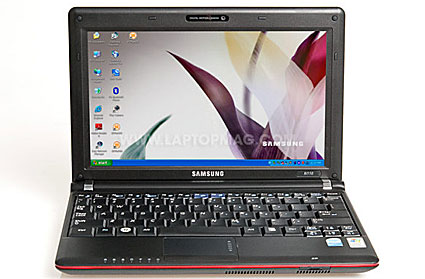 Although we're just about up to here looking at near-identical netbooks all offering near-identical specifications, the successor to Samsung's class leading NC10 netbook seems worthy of a mention.
Cruelly absent from out Desperately Seeking The Perfect Netbook round up last year, the NC10 ended up nudging out our favourite netbook, the Asus Eee 901 in many reviews, so we're keen to see what Samsung's latest update offers.
Sadly, the N110 seems to be more of a style refresh than a real upgrade, serving up the same 10.2″ inch screen, 160GB hard drive and spacious keyboard, with an identical 1.6GHz Atom N270 processor lurking inside.
Memory, storage, ports and slots all remain the same as the NC10, with 3 USB ports, a 3-in-1 memory card reader, mic and headphone jacks, a VGA port and an Ethernet jack onboard.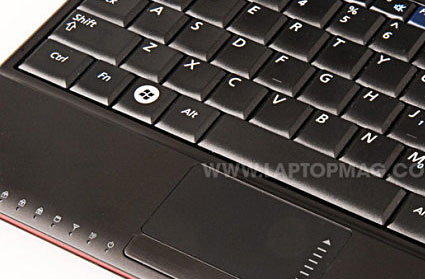 What has improved is the mouse button and trackpad, which is noticeably larger (2.5 x 1.3 inches agaisnt 2.3 x 1.1) and keeps the same handy slider bar for scrolling through long pages. The mouse button retains the annoying single rocker bar design, but it has at least been raised a tad which makes it more usable.
The NC10 won plaudits for its long battery life, and Samsung has increased the six-cell battery's capacity even further to keep you going for a lengthy 7 hours.
A natty, red-rimmed, matte exterior finishes off the refresh, with a price tag of $469 putting it in the middle tier of netbooks. Read the first full review of the N110 at Laptop Magazine.
Specs:
CPU – 1.6-GHz Intel Atom N270
RAM Included – 1GB
RAM Upgradeable To 2GB
Hard Drive Size – 160GB
Hard Drive Speed – 5,400rpm
Hard Drive Type – SATA Hard Drive
Display Size – 10.2 inches
Native Resolution – 1024 x 600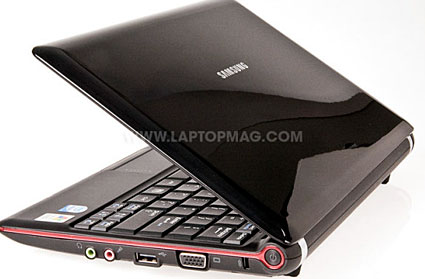 Graphics Card – Intel GMA 945
Video Memory – 128MB
Wi-Fi – 802.11b/g
Bluetooth 2.0
Operating System – MS Windows XP Home
Ports (excluding USB) – Ethernet, Headphone, Microphone, VGA
USB Ports – 3
Card Slot – 3-1 card reader
Size 10.3 x 7.3 x 1.2 inches
Weight 2.8 pounds