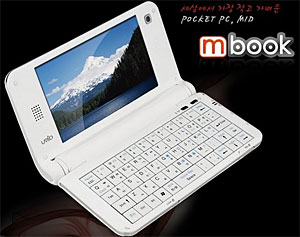 While netbooks continue to offer bigger screens with a corresponding creep in case size, the UMID's mbook engages reverse gear and is but a mere slip of a thing with a tiny screen.
Undoubtedly the tiniest netbook yet, the mbook squeezes in the same 1.1GHz Atom Silverthorne Intel CPU seen on regular netbooks, while the touchscreen gets shrunk in the wash down to a mere 4.8-inch number sporting a eyesight challenging 1024 X 600 screen resolution.
With a form factor reminding us of our much loved Toshiba Libretto 50 ultra-mobile laptop from 1997, the mbook manages to offer a more practical device.
Much as we were wowed by the then-astonishingly small Tosh, its battery life struggled to get past the boot-up, whereas UMID claims that their mbook will keep on rocking for up to an impressive 5-6 hours.
The specs of the M1 mbook look pretty good too for such a wee fella, with the micro netbook offering WiFi, Bluetooth 2.0 and optional 3G, plus a mini USB port, MicroSD slot and 1.3m CMOS webcam.
UMID claim that the mbook is small enough to fit in your shirt pocket, and the video confirms that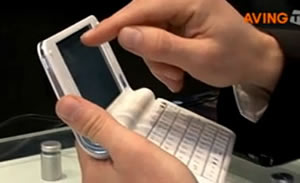 – with a bit of a squeeze – it is indeed possible.
It's priced at 149 Euros 'with data subscription plan' or 350 Euros unsubsidised.