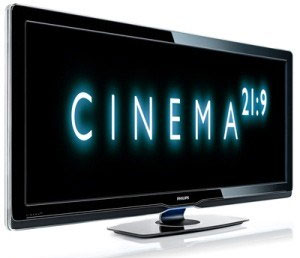 If you're pockets are deeper than the Mariana Trench and you've got an aircraft-hangar sized front room, Philips' fabulous new 56inch 21:9 TV may be just the thing for you.
Wider than the Mersey tunnel, the 21:9 tele was officially announced a few weeks ago, but it's taken until now for Philips to hit us mere mortals with the devastating price tag: a hefty £3,500.
For that almighty wedge of wonga, you'll be able to watch movies exactly as they were intended on the 2,560 x 1,080 pixels screen – so kiss goodbye to annoying fun-restricting horizontal black bars all over your gogglebox.
Of course, as soon as you switch back to ordinary TV content, you'll be saying hello to vertical black bars galore as the mile-wide Philips is going to look pretty silly displaying content in regular 4:3 and 16:9 formats
The letterbox shaped Cinema 21:9 comes with access to Philips new Internet-based TV service, Net TV, which lets you view Web sites like YouTube, eBay, Funspot and TomTom via wi-fi from the comfort of your sofa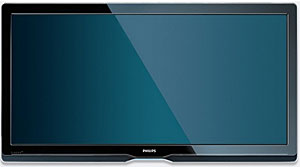 via the supplied remote control (for that kind of money we'd also expect a built in, perpetual, built-in beer dispenser too).
There's also a generous 5 HDMI slots to cater for ever conceivable HD device need, and the display comes with Philips' extra cool AmbiLight Spectra lighting technology on three sides. This creates a glow on the wall behind the screen that is synchronised with the the TV content and looks fantastic.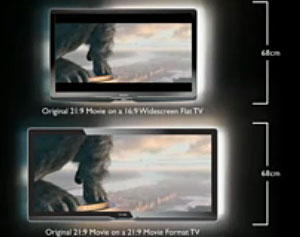 Here's Des Power, Senior Vice President Marketing Television, Philips Consumer Lifestyle,to big up their new product. Give it some welly, Powersy!
"With our unique Cinema 21:9 we have developed a television which takes you as close to the experience that you enjoy at the cinema as you can get without buying a ticket. We believe that to really become absorbed in watching a film at home consumers are looking for a real cinematic viewing experience, so we have launched the world's first cinema-proportioned TV screen perfectly complemented by our immersive AmbiLight technology."
See a video of the Cinema 21:9 in action: