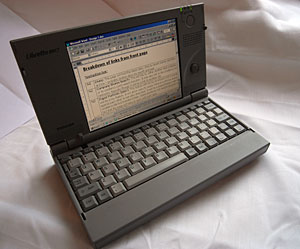 With the industry's focus once again looking towards Ultra Mobile PCs, we were prompted to dig out our old Toshiba Libretto 50 and see how it shapes up in comparison.
Released over ten years ago in January 1997, the Tosh was seen as something of a mini-marvel in its day, being the first mini-notebook computer to both pack an Intel Pentium (hurtling along at 75MHz) and run Microsoft Windows 95.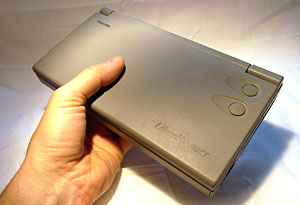 The Libretto 50 was Toshiba's second mini-PC, succeeding the Libretto 20 released in the previous April. The latest l'il Libretto managed to run a full version of the W95 operating system and came with Microsoft Word for Windows 95, Excel, Lotus Organizer 97 and Internet Explorer V3.0 pre-installed.
Packed into its tough grey casing was 16MB of EDO main memory (upgradeable to 32MB) and an 810MB hard disk drive.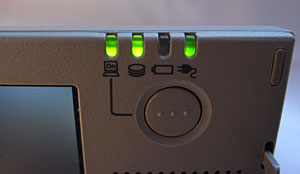 Flipping open the 210×115×34mm case reveals a small but neat keyboard and a 6.1″ 16.77 million colour TFT display, supporting 640 x 480 pixels resolution.
Graphics were taken care of by a 'high-performance' graphic chip, CT65550, with a SoundBlaster Pro compatible sound chip on board powering a single integrated speaker.
Connections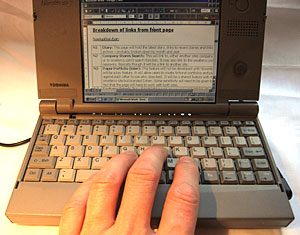 Connectivity suffers badly compared to modern UMPCs; there's no Wi-Fi, no Bluetooth, no built in modem and there's ne'er a USB port in sight – no surprise considering the technology was still relatively new in 1997. In fact it would be a full two years until Apple fully adopted the standard for their keyboards
Instead, the Tosh had to make do with a PC Card (PCMCIA) slot, an infra red port and an external floppy disk drive. An optional optional bolt-on Port Replicator provided extra connections for a PS/2 external mouse (remember them?), external keyboard, printer, RS-232C device and external display.
Hear about the battery life, programs and our conclusion in part two tomorrow.