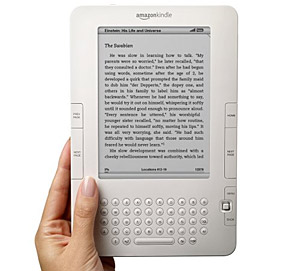 After being blown away by the impressive screen quality of Sony's first gen PRS-505 Reader back in 2007, we've been keeping a close eye on the development of eBook readers.
Although several manufacturer have entered the market since, including the Cybook Gen3, the one that really caught our eye was Amazon's Kindle reader.
What marked this reader out from the pack was its wireless capabilities, offering PC-free wireless downloads of books with a rudimentary web browser on hand for quick news, weather, or Wikipedia lookups. There's also the option to subscribe to a variety of daily newspaper and blog downloads (for a small charge), The Kindle could also play audio books from Audible.com.
With each Kindle coming with a customisable e-mail address, users can e-mail Microsoft Word, plain-text, HTML, JPEG, GIF, PND and GMP files, but at a cost of 10 cents for each item. Annoyingly, files on the SD card can't be read directly and have to be emailed to Amazon to be converted to a Kindle-friendly format.
In the States, the influential TV host Oprah Winfrey gave the Kindle a glowing review, where she described it as he 'favourite new gadget,' and that helped push sales to an end of year tally of over half a million.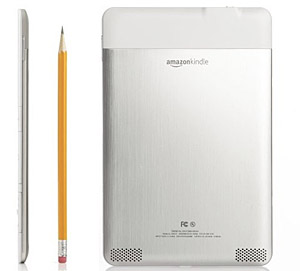 Kindle 2
Although we were intrigued by the functionality of the first Kindle, it has to be said that it certainly wasn't a looker, and these new leaked photos suggest a sleeker, more attractive update.
It looks devilishly thin, appears to be made of made of brushed metal with a pair of stereo speaker grills at the bottom.
Word is that it'll be knocking out for around $360 when it hits the stores on February 24, but, just like the first version, there's no talk of a UK – or European – option yet. Ho hum.