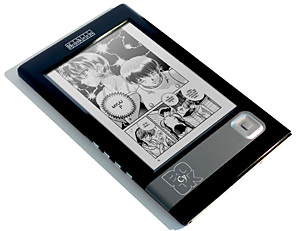 Now available for purchase and ready to take on the Sony PRS-505 is Cybook's Gen3 e-book reader, an ultra-light reading device based on 'E ink' screen technology.

With a daylight-readable 800 x 600 resolution display claiming a "paper-like high contrast appearance," the device boasts an impressive battery lifetime of 8,000 page flips – which apparently equates to a two month battery life for an average reading pace of 80 pages per day.
The Cybook supports a wide range of formats including HTML, Txt, PRC, PalmDoc and PDF, with support for font resizing (except for pesky PDF files which can only be zoomed).
Dictionaries can also be downloaded onto the device, but judging by their website, makers Bookeen don't use them.
Using Mobipocket eNews software, RSS feeds can be downloaded onto the Cybook, and there's graphics capabilities in the shape of JPEG, GIF or PNG support, with images automatically resized, converted to grey levels and dithered.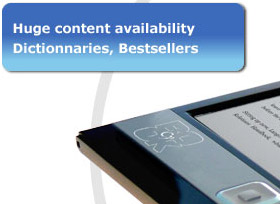 The Cybook can also act as a MP3 player, but annoyingly comes with a 2.5-millimetre stereo headphone jack so you'll need an adapter to use your favourite phones.
The device comes with 64 MB of internal memory (enough for "several tens" of books according to the maker's blurb) and there's an SD card for further storage.
Files are transferred via drag and drop over a USB connection, with the Cybook compatible with any kind of USB-toting computer.
A wobbly video of the reader in action can be seen here.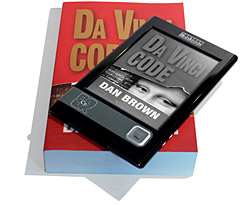 The Cybook can be ordered from bookeen.com for £245.
Specifications
Size 4.7″ x 7.4″ x 0.3″
118 x 188 x 8.5 mm
Weight 6.13 ounces -174 g (battery included)
Screen 6″ E Ink® screen
[4.8″x3.6″- 122mmx91mm]
600×800 pixels, 166 dpi
B&W, 4 grayscale
Daylight readable
No backlight
Portrait and landscape mode
Sound 2.5mm stereo headphone plug
Controls 11 buttons (No touchscreen)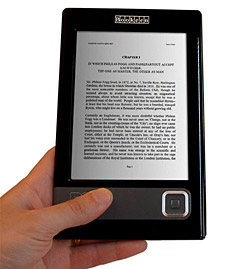 Battery Rechargeable built-in Li-Polymer battery (1000 mAh)
8,000 page flips battery life
Processor 200MHz
ROM memory 8 MB
RAM memory 16 MB
Storage memory 64 MB Data Flash
Formats HTML, Txt, PRC, PalmDoc, PDF
Secured MobipocketTM
Connectivity USB Client (v2.0) – Mini USB B connector, SD Card slot