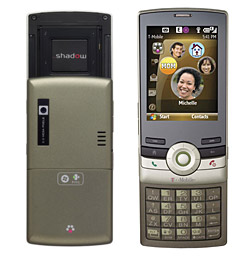 T-Mobile have today announced the Shadow, a low-cost, consumer-focused Windows Mobile 6 smartphone with a slide-out keypad heavily 'inspired' by the BlackBerry Pearl.
Just like the one seen on the hugely popular Pearl, the slide-down keypad is five keys wide with each key offering two letters, with the phone using Tegic's XT9 predictive software for speeding up text input.

Quite a hefty fella at 4.06 by 2.09 by 0.59 inches and weighing 5.29 ounces, the HTC-maufactured Shadow comes in a grey and silver finish with a soft-touch back and an illuminated scroll wheel with backlit keys.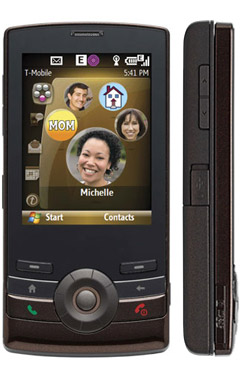 The 2.6″ display sports a 320-by-240 pixels colour screen – it's not a touch screen sadly – with the interface delivering a feast of teen-wooing animated menus and icons.
Internet connectivity comes in the shape of EDGE and Wi-Fi, and there's a 2-megapixel camera with video recording slapped on the back (but no front facing video chat lens). There's also Bluetooth with A2DP support for music, an integrated IM client, a speakerphone, voice dialling, and quad-band support to keep globetrotters contactable.
Rated at a rather lowly 201 Mhz, the processor is unlikely to get speed demons rolling around the technological dust with unbridled joy, but early reports say that the Shadow is nippy enough for most uses.
There's a MicroSD memory card slot onboard offering up to 4GB of additional storage to supplement the 72MB of onboard program memory.
Going on sale in the US on Wednesday, October 31, the The T-Mobile Shadow will knock out for $149.99 upwards depending on price plans. The full specs haven't been posted online yet, and there's no firm UK release date.