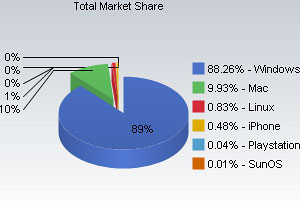 January has proved to be a good start for Apple, with around 10 percent of Web users running the operating system, according to Web metrics company Net Applications.
Microsoft's new Windows 7 OS – currently in its first public beta – also enjoyed a surge of popularity. The company first made the beta available for download on January 10, although it suffered an inauspicious debut, with servers crumbling under the demand.
The OS swiftly registered at 0.04 percent of web users, and the fluctuated between 0.12 percent and 0.15 percent for the rest of the month before an end-of-month leap to 0.23, a result of Microsoft's original decision end the download period on Jan 31st (it now runs to Feb 10th).
Apple's continuing success was reflected in an operating system market share report of 9.93 percent for January, up from 9.63 percent in December.
The iPhone continues to grow, registering 0.48 percent – up from 0.44 percent in December – while the iPod touch, enjoyed "explosive" growth to hit 0.11% Internet share. That may not sound a lot, but it works out that more than one out of every 1,000 Web hits were made from iPod touches last month, according to Net Applications figures.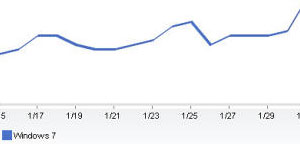 After the less than impressive performance of Vista, Microsoft are hoping that the new Windows 7 OS will help reverse a slump which saw their operating system share slide to 88.26 percent, from 88.68 percent in December.
Of course, they're still miles ahead of the pack, with poor old Linux a tiny blob on the horizon by comparison, scoring just 0.83 percent, a wee wobble down of 0.02 percent from December.