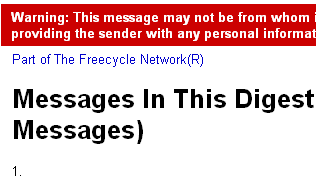 As soon as Google fixed their misreporting "This Site May Harm Your Computer" search problem, we had reports of another problem with a Google service. This time GMail.
Gmail appears to be putting legitimate emails in the Spam folder and also showing the following warning message above many emails …
Warning: This message may not be from whom it claims to be. Beware of following any links in it or of providing the sender with any personal information.
The message has a right red background, so you're not likely to miss it.
Best check your Gmail spam account for Non-spam mail.
Damage to Google?
There have been a number of comments on the previous story asking if this will damage peoples view of Google.
Given their generally unshakable reliability, it's hard to imagine that these two incidents won't have some detrimental effect on people's confidence in Google.
Via Suw