We think this is the first serious review of the Sony Vaio P, it's not a just a couple of quick paragraphs, but a more in depth examination for what it's like to use. We hope you enjoy it.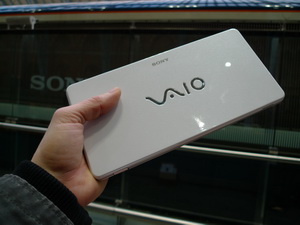 We'd already dribbled and drooled all over the first press photos of Sony's gorgeous new Vaio P Series netbook, so couldn't miss the opportunity to check it out at the UK launch event at the famous champagne bar at St Pancras station.
Our first impressions – once we got over the disappointment of the promised free champagne being replaced by a warm cup of coffee (! :) ) – was overwhelmingly positive.
Slim, sleek, slender and shinier than an eagle's beady eye, this is a netbook that will certainly garner appreciative nods when you whip it out of your bag in a meeting. It looks sensational and drips class.
Actually, we keep saying netbook, but apparently Sony don't like the word. Maybe that's because it's too downmarket for their hoity toity tastes, so they'd prefer it if we called it a 'Lifestyle PC.' How very la-de-dah.
Anyhow, back to the Vaio netbook Lifestyle PCs which were temptingly laid out along the (champagne-free) champagne bar at a freezing St Pancras station yesterday.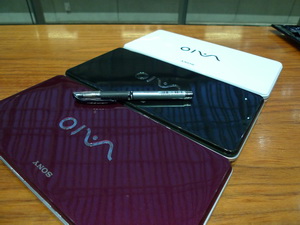 Loads of colours!The full gamut of colour schemes was on show – emerald green, onyx black, garnet red, crystal white and classic black – and all looked absolutely delicious, although each one was already liberally covered in smudgy dab prints from grubby journos.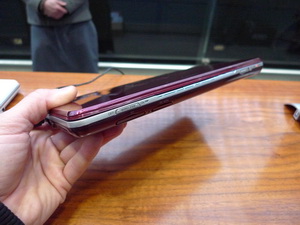 The 1.4 pounds device felt as good as it looked in the hand, and at 9.6 x 4.7 x 0.78 inches they're small and slim enough to slip inside a deep jacket pocket – although you'd have to rocking Coco The Clown's circus outfit to be able to wedge it into your trouser pockets.
Taking a look inside
Along the front edge of the Vaio is the wireless on/off switch with SD and MS Duo slots underneath, while to the right is the power on/off switch next to a slightly fiddly catch for opening the lid. You can forget all about trying to open this puppy with gloves on.
Booting into Vista took about as long as you might expect, but once the machine was up and running we were treated to the truly glorious splendour of the outrageously large and panoramic 1600 x 768 pixels, 8″ LCD screen.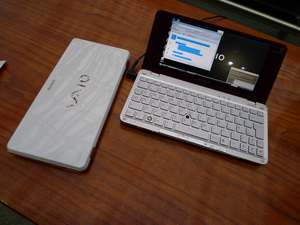 The resolution was so vast that some websites were left stranded in a sea of empty browser space while the text size was so small that we were almost licking at the screen at times. This is a laptop you'll find yourself getting close to, that's for sure.
Although having such a high resolution display means you can pack an awful lot onto the screen (there's even a custom button letting you view two automatically resized browsers side by side), in the end it just felt like total overkill. If we were to use this for any length of time we'd be heading straight off into the control panel to change font and icon sizes.
Part two of our Sony Vaio P Review, will delve into using the keyboard, the Xross Media Bar, what Vista is like on it and our conclusions … and of course, lots of other lovely pics