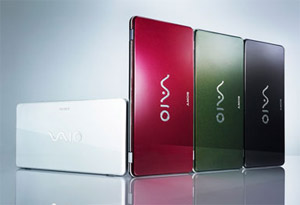 When we first clapped eyes on Sony's delightfully slick Sony Vaio P subnotebook, we almost cried with desire and want.
The shiny slimline device measures up at a pocket palpitating 9.6 x 4.7 x .78 inches and packs a positively ludicrously lush 1600 x 768 pixel resolution, 8.9 inch display, crammed into a featherweight 1.4 pounds device.
Powered by an 1.33GHz Intel Atom Z530 CPU, the netbook runs Microsoft Vista with the supplied 3 cell battery promising 4 hours of uptime (8 hours with extended battery).
All your connectivity needs should be pampered and met in style, with the Vaio packing 802.11n Wi-Fi, Bluetooth, 3G mobile broadband, 2 USB ports and a SD/Memory Stick slot, while onboard storage options come in the shape of 60GB HHDD, 64GB SSD or 128GB SSD, backed by 2GB onboard RAM.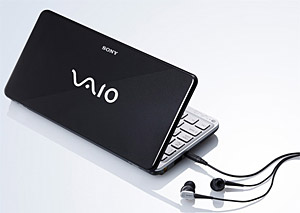 Instant On
There's also an integrated 'real time' GPS unit, while impatient info freaks will love the 'instant on' feature (courtesy of Sony's Xross Media Bar) that lets you access photos, video, music or launch a web browser without loading up the lumbering beast that is Windows Vista.
Naturally, in a device as diminutive as this, the keyboard is not going to be ideal for ham-fisted thumpers and sausage fingered bloggers, although Sony say that it's 88 percent the size of their Sony Vaio TT keyboard (which is notably smaller than a normal keyboard anyway). With no space for a touchpad, there's a keyboard-mounted ThinkPad-style pointing stick for zipping around the screen.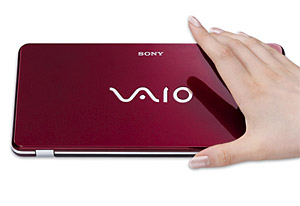 We used to think these were a pain to use, but after using a similar device on our ThinkPad x31 laptop we're become rather fond of the little 'nipples' as they're known (actually, some people call them by a different part of the female anatomy, but we'll leave that for now).
The pint-sized P Series Vaios are available in a range of mighty purdy colours, including garnet red, emerald green, onyx black, crystal white and classic black.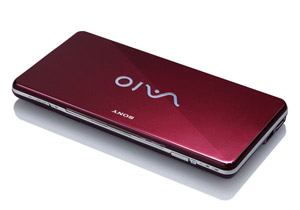 The premium for owning one of these delightful beasties is as knee crossing as you might expect, with prices starting at flighty $899 and soaring up, up, up into the blue sky to a stratospheric $1499.