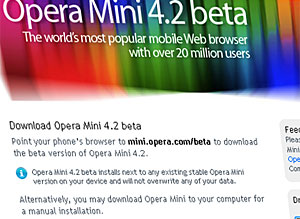 Self-crowned by Opera as the most popular mobile browser in the known universe, the latest update, Opera Mini 4.2, has now been released in beta.
The Java-powered browser attempts to give mobile users something akin to a desktop surfing experience by displaying a small image of the full web page which can then be scrolled and zoomed into.
All new for v4.2 is improved video support for YouTube and other mobile video services by providing a built in link to the handset's built-in browser or media player (so if you're using Nokia and Sony Ericsson phones, you'll be shunted to the media player to view a YouTube video and passed back to the browser afterwards). It doesn't seem a particularly elegant feature to us (the humble Palm OS has managed something similar for ages), but at least you get to view the videos.
The desktop synchronisation feature, Opera Link, has been tweaked to allow users to synch notes to Mini, adding to its ability to share history, bookmarks and speed dials between Mini and the desktop-based browser. There's still no way to sync surfing history, alas.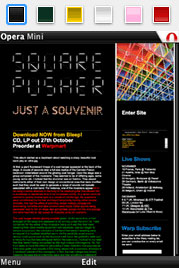 A pile of six skins are now available in green, yellow, pink, silver, black and red and apart from the cosmetic fluff, Opera are claiming a general performance boost for US and Asia users thanks to a new server park in the U.S.
Opera said that the new park will offer "significantly faster page downloads for our users in the Americas and Asia-Pacific region. Users in the rest of the world will also experience faster page downloads since we've reduced the load on our other servers."
Standard, BlackBerry and Palm betas are available: Download Opera Mini