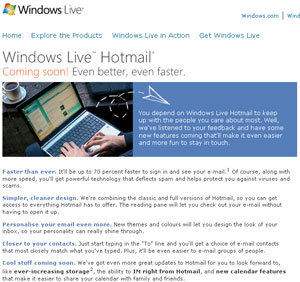 Although our days of using Hotmail ended years ago when Google launched its GMail service offering far more server space, it still remains a hugely popular service, and Microsoft have started to sprinkle some fairy dust over the free e-mail pioneer.
Now christened Windows Live Hotmail, the new layout looks simpler and faster than the old Hotmail service, with the log in screen being pleasingly clean and free of clutter.
Once logged in, with users can choose between the basic 'classic' version or the full bells and whistles of the broadband-optimised interface, complete with quick review of messages, drag and drop organising and auto-fill addresses.
Microsoft claim that the all-new Hotmail will be "faster than ever" boasting speed increases of 70 percent to sign in and see your e-mail, with extra defences against spam, viruses and scams.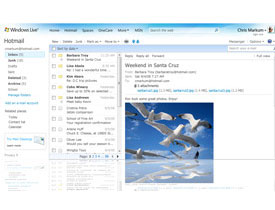 Users will be able to customise their screens with new themes and colours, although Microsoft are describing the changes are being "more like a repainted room than a remodeled house."
There's also extra storage space on the horizon (5GB to start and then 500MB more per month every time you hit the limit), the ability to IM right from Hotmail like in GMail, and new calendar sharing features.
The updates will be rolled out over with most users unable to revel in the majesty of the new layout for the time being.